You're totally smart.
That's why you don't set resolutions and goals like "this year I'm going to get fit, happy and rich".
Instead you set goals that are defined, numeric and time bound. Like "this year I'm going to make 6 figure income from my business" or "quit my job on April 1st" or "have 5000 subscribers by the end of 2010" or "10 clients each in 3 courses". Excellent!
So why didn't some of it happen? After all, you did it right.
Let's look at why, shall we.
Setting goals like "6 figure income" or "5000 subscribers" or "10 clients" can be good as long as you're not picking arbitrary numbers with no meaning. You can't hit a target you're not aiming at after all. Specific goals are great for clarity and focus as long as you're not insanely attached to them (or how they're going to come about).
Numbers work when you have a reason why – ie, why those numbers, what that's going to bring you in terms of lifestyle or other goals.
Just picking something cos it sounds good or cos you think that's what success looks like, doesn't have enough JUICE. Those are the kind of goals most people come close to, but don't achieve.
Cos that's not what reallyyyyyy motivates you.
What motivates you is the feeling you'll get when you achieve those goals. If you can get a headstart on the feeling (and yes, it is a matter of perception and choice), the physical manifestations WILL catch up.
But.. you already know that, don't you. And you know just how to set your goals this year – in resonant, meaningful ways, knowing exactly why, and what they're gonna give you.
What if this year, you wrote a story instead. A story of how you want your life to look like in 12 months time. A story you can start living today. Or words. Words that remind you of your intentions and desires. Guideposts, rather than set-in-stone milestones.
TUT.com's last email of 2010 said:
Soon the new year starts, so now's a great time to:
1. Wipe the slate clean.
2. Focus upon what you really want.
3. Chart your course.
Right?
Well… only if you want to risk having to repeat these steps for the same wishes next year! Maybe this is splitting hairs, but here's an adventurous alternative:
1. Give thanks that life is… just as it is (and that it's been… just as it's been). Because of it, you're now "READY."
2. Define what you want in terms of the end result. Don't worry about the hows, or even the course. KNOW that what you want is ALREADY yours in spirit, by divine LAW, just focus on the certainty of this ownership, understand it, claim it, and "it will be on earth, as it is in heaven (spirit)."
3. LET THE UNIVERSE show you the way via your impulses and instincts that appear as you take inspired action. Don't worry that your first steps seem silly or futile. And if you don't know what to do, do anything! Go! Get busy! Do not insist on intermediary successes, only upon the end result.
2011 is going to be your year (it already is),
The Universe
I LOVE this!! Instead of wanting life to be different and setting goals to that end, what if you just embraced that everything happened just as it needed to this year, to prepare you for the next?
And then thought about what you'd rather experience this year?
I did that at midnight, wrote down 10 things I want to experience in 2011 and gave thanks for all that I DID experience last year (last year! already! ha!). The ups, the downs, the all arounds.
Back on Dec 1st in One Year One Word, I'd chosen Belief as my word for 2011. It felt a little nebulous and I wanted something that was stronger and more reflective of the surge of energy and power I feel.
So in 2011, I choose to be COMMITTED.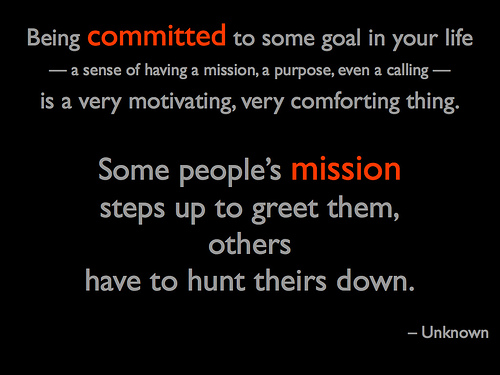 Everything starts with a decision, and then committing to that decision.
Commitment is a word I've never liked or appreciated, often likening it to restriction. This year, I choose to see it differently. I see it as an empowering word, a word that gives me more freedom and flexibility along with focus.
I also picked 3 words to guide my actions, thoughts and words:
FIREWORK – All about aliveness and VITALITY. It's about tapping into the power and energy within, to shoot out sparks of purpose, passion, delight, inner geniuosity (yes, I make up words), authenticity, creativity. See how much one can pack into a word?
INTENTION – Your decisions reveal your thinking. Your thinking reveals your Intentions. What you manifest is a reflection of what you've been focusing on. There will be no waffling or dilly dallying as I intend clarity, focus and decisiveness this year. Some of my big intentions are:
Radically follow what feels good in terms of Business, whether it makes "sense" or not
Be an unconventional entrepreneur and Do it MY way even if "the successful people are doing it THIS way" (including having a .net url instead of a .com cos the .com was taken)
Create to add value and fun, not for money and success
Honour my spiritual inheritance and purpose in this life and give it attention and focus and lots of room to breathe, flourish, flower and ignite!
Believe in myself, my inherent and utter worth, contribution and deservingness (and YOU)
Keep following my fun and JOY factor and connecting with people, cos that's why I EXIST
Help more people get LIT from within and turn into FIREWORKS!
No more info products or books till I've finished the ones I have
Do what I do best – be ridiculously happy and inspired and childlike and over enthusiastic for no reason at all 😀 😀 Including overusing !!!!! marks – that's my birthright, baby!
Invite, EXPECT and raucously welcome the highest levels of abundance, love, energy, aliveness and MAGIC I've ever known!
Note: no income or subscriber or stats goals either (I do have a ballpark figure of what I'd like to earn, but won't be using that as a yardstick of success). Instead, metrics this year include conversation, engagement, aliveness, creativity, expression, giving, seeing lives change. Ha! Fun, funnity, fun.
SOURCE ENERGY – A reminder to believe in yourself, to know that everything you want, is already in existence. All you've got to do is remember. Reach in. And bring it into your physical reality. Believe and it is so.
Interesting .. Firework is about sending out sparks, Source Energy is about reaching within, Intention is what guides them both. I'd call that a full house.
What are yours? What do you want to share about your goals, intentions and hopes for 2011?
Here's my Anthem for 2011, this is what I wish for you, my readers, clients, friends, family, people of the World. IGNITE the LIGHT, Let It Shine! Baby, You're a Firework.
Facebook comments:
comments