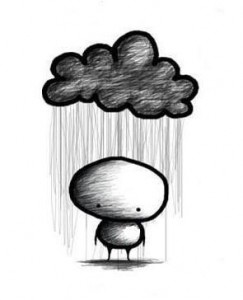 Over the past couple of years, I've done a bunch of blogsite ('blogwebsite') reviews for colleagues, YLYW facebook community peeps, friends and clients who want to blog successfully, get clients through socialmedia, create community and establish a powerful online presence.
After I reviewed another one a few days ago, I decided to address some of the questions I get asked in a post, as they're mostly variations of the same issues.
Here are 9 reasons your blogsite isn't bringing you clients and what to do about that (I've been guilty of them all).
Feel free to add your thoughts as well!
1. You're acting like an amateur, instead of a professional.
Steven Pressfield, in his book The War of Art, talks about Resistance and the difference between amateurs and pros.
Amateurs write when inspired.
Pros write when inspired, but luckily, inspiration always strikes at 9am.
Well – it doesn't, but the point he makes is that writing is about consistency. The hardest thing to do isn't to write, but to sit down and prepare for it.
What you can do:
#1:Pick a time of the day and sit down in front of your computer for 10 minutes with all other browser windows closed. Whether you write a line or 10, don't get up till your time's up.
#2: Keep a draft folder of all your ideas in your wordpress dashboard, a folder on your computer and in a little notebook that you carry with you. When you're stuck for ideas, go through them & pick.
# 3: On a day you're feeling really inspired, stock up on writing 2-3  blog posts and schedule them for later dates.
2. You're thinking like a coach/designer/insert title here instead of an invaluable resource.
I learned this one from David Garland of The Rise To The Top. His site is a resource for entrepreneurs who want to … rise to the top! He conducts interviews with top entrepreneurs for ideas, insights, stories, winning strategies etc to help entrepreneurs promote themselves in smarter, faster and cheaper ways.
For example, I'm creating YLYW to be a resource for multi-passionate people aka Scanners who want to figure out what their main passions are and find ways to make a great living by bringing them together. The solutions I provide for them range from coaching, to socialmedia courses, to community, inspiration and so on.
What you can do:
# 1: Identify who you're a resource for, and what solutions you're providing for them.
#2: Showcase your expertise and knowledge by writing pillar articles, conducting interviews with leaders in your niche, offering your services in different ways, doing a video series, creating educational content, collating your best biz resources and anything that establishes you as the go-to-person for your right people.
3. You're writing for your peers instead of your clients.
Michael Martine wrote an eye opening post about marketing your freelance business with a blog. He's right when he says that most service professionals tend to end up writing for their colleagues and friends.
What you can do:
You really need to focus on creating and writing for your clients! Less on getting comments and shares, more on what and who you're writing to, ok? Getting conversations going, a few retweets and shares here and there, do not a client attraction strategy make (but great for community building & social proof).
Not saying you can't talk about personal stuff in your blog or share, by all means do, just make sure you know why you're blogging and be aware of who you're doing this for and why.
This is something that took me a couple of years to figure out too. Don't make the same mistake. Blog smart, blog right.
4. You're spending all your time at home.
You write, you tweet, you share the post on all your social networks. Then you wait. And wait. And wait. Look, I don't care how busy you are, but unless you're an established blogger/entrepreneur like say, Chris Brogan, you need to step out of your online home and go visiting.
Heck, he didn't get to where he is by twiddling his thumbs at home, and probably still goes a-calling!
What you can do:
#1: Get out of your blog and go where your people are.
#2: Comment on other blogs.
#3: Start a meetup group.
#4: Chat with fellow entrepreneurs and potential clients via email, skype, phone, in-person.
It's all about relationships and communication online and off, baby.
5. It's not clear what you do.
No really, what you do is much, much more than say, 'coaching'.
If I come to your site and see "bla bla bla life coach bla bla bla" with a few paragraphs dedicated to telling me the difference between coaching and counselling (I had that copy up for an entire year!) and what co-active coaching means and why your values are so important, I'm going to RUN and not look back.
There's nothing that spells the kiss of death like generic-ness!
Being a Sparkly Scanner type, I resisted niches for 2 years, picking and changing them over and over again. Now here's where I'm going to deviate a little and say you don't need a niche to be successful and be clear who your people are, if your MISSION is bigger than it.
What you can do:

#1: Be clear about problems you're solving and the solutions you're providing. "Weight loss coach helping you to get fit without dieting" speaks to your perfect client better than "weight loss coaching".
# 2 Read how to become a real authority in your field  and if you hate niche picking (ha ha) like me, find a common theme and make THAT it.
6. You have no calls to action.
What's that? Something that compels a reader to take immediate action once they land on your site. It could be anything from reading, commenting on and sharing a post, to signing up for your newsletter, sending you an enquiry or making a purchase.
Whatever your call to action, make sure there IS one. You want a potential client to hang around your site and get to know you, instead of clicking away in a few seconds and never returning, so give 'em a good reason to stay.
What you can do:

#1: Have an email sign up box clearly visible on your site, even if you're brand new at what you do and have nothing to offer in return yet (like a freebie report or ebook).
#2: At the end of each post, let the reader know what you want them to do. Do you want them to sign up for your email list? Share the post? Leave a comment? Work with you?
#3: Check out 10 techniques for an effective call to action for tips to maximise yours.
7. It's hard to navigate your site.
Super bright colours that blind, white fonts on dark backgrounds, blocks of text with no pictures or breaks, using the same font size throughout, font sizes that are too small, too many widgets, more than 2 columns, unnecessary extras like tag clouds and category clouds, bad design, no easy navigation bars – the list is endless.
Whether you're a scanner or not, you scan. Everyone scans. So it's hugely important to have a site that's easy to navigate, easy on the eyes and underwhelming vs overwhelming as the lesser of two evils.
This stuff is so basic and yet the easiest to get wrong.
What you can do:
#1: Use white space liberally – let there be light in your site.
#2: Break up long blog posts with pictures, bold headings, bullet points, quotes, 2-3 line sentences.
#3:  Use a minimal amount of widgets and social icons, decide which ones are the most crucial.
#4: Have the most important one (your email sign up box) on the top, above the crease of the page.
#5: Read 10 killer ways to boost your site's readability.
8. You're not promoting yourself.
Even if you hate promoting yourself, some simple easy tweaks will halve your work for you. You don't have to be a selling machine but do remember that people buy who you are first, and what you're selling second. Ie, they want what you have in terms of knowledge, business success, personality, happiness quotient.
If Seth Godin was to launch a product and you were to launch the exact same one, well he'd be the bigger seller by far on account of being known further and wider (unless you're Apple).
What you can do:
#1: Use plugins: Some of my faves are Link Within (generates similar posts so the reader has an incentive to stay on your site), Comment Reply Notification (commenter gets an email when you reply to them and this brings them back to your site for more discussions), Like & tweet buttons (for sharing), Tweet-stimonials (social proof), WWSGD (welcomes you back to the site), WPTouch (so readers can read on their smartphones).
#2: Automagically link blog posts to other networks: Link your blog to networkedblogs on facebook, the WordPress widget on LinkedIn, directories like BlogCatalog.com so that they all get updated automatically when you publish a new post.
#3: Put the rss feed on top of the page so readers can subscribe in a few different ways.
9. Your writing is boring.
Dude. Nuff said. Smarten up. Hone your skills. Read copyblogger.com. Don't be stuffy. Write like you talk. Write to one person. Put a unique spin on things. Your blogsite is your business and human face.
For God's sake, SHOW SOME PERSONALITY!
Did you learn anything new? Got any tips to add? Please share your thoughts! ps: If this was helpful to you, I'd appreciate a tweet, like, share or stumble, thanks.
Stay connected ~
1. Sign up here for weekly Tuesday inspiration updates right in your inbox (& get the fun, FREE ebook on 10 top KICKASS ways to stop procrastinating + BRAND new, just released 120 Most Inspiring Quotes for 2012 eBook).
2. Join the Facebook page  for daily inspiration & coaching tips. Xoxo, Tia
Facebook comments:
comments