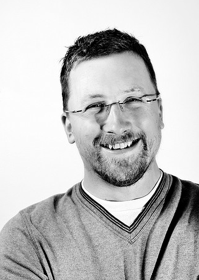 I know of Chris Garrett as a shy, geeky, super smart business consultant with an IT programming background and years in the trenches.
He's an adventurer too! Moved his family across from the UK to Calgary in the middle of winter (I think it was winter..) and started a new life all over again.
Reinvention, baby.
You know I love the travellers. So here's Chris on his WHY, productivity strategies, success tips and his favourite superhero(s). Wanna guess?
1. What's your WHY and how does that affect your life and decision making?
There are lots of whys. There are also long-term whys and short term whys. Most of my whys come down to creating the best life I can for my family.
2. How do you stay focused and productive while working from home? Could you share your top productivity strategies/tips for professionals running an online business from home?
First, answer the question you started with – what is your why? If your why is not strong enough then you will never get done what you need to.
Second, learn to prioritise – when people tell me they don't have enough time I get them to keep a diary. One of two things happens:
1) They work out they really did have time (cutting down on TV, getting up earlier, etc) or
2) They don't do the diary which tells me they didn't care enough to turn their dream into an ambition and their ambition into action.
3. What inspires and motivates you?
People achieving their goals inspires me. I try to surround myself with people doing stuff. From clients to partners.
What motivates me isn't "success" so much, it is more the lifestyle I want for my family as I said before – so the really motivational and inspirational stories for me aren't the ones with $$$ but where people succeed at their own goals without going against their core values.
4. What's the #1 key to your blogging and entrepreneurship success?
It's a tough question because, first I feel like I am on a journey and haven't "made it", and second I see it more as what I won't/don't do.
I see a lot of people attacking to get attention, taking their audience for granted, chasing dollars at the expense of their long-term reputation …. so I guess my answer would be putting people first. I owe a great deal to my network, partners, customers, community … we should never overlook that.
5. From your experience, what are 3 things a coach or online entrepreneur simply MUST do to stand out in a crowded market and attract their right clients easily?
1. Identify the people they can help the most.
2. Find out where they hang out, go there and be awesome.
3. Focus not on what you do but on what they get.
Bonus Q: If you were a superhero, who would you be and why ;)?
The superhero I most identified with was Spider-Man because he was a real nerd. I also like "with great power comes great responsibility" 🙂
There might be others though. Due to my shyness I also liked any character who could turn invisible (either through becoming ghost-like or through super-speed). Iron Man has the best gadgets, though I know a lot of Batman fans would disagree. Most teenagers I think can appreciate the x-men, feeling different and outsider.
Tough to say … I guess the ones I am least like are Batman (why so serious?) and Superman (aloof and invulnerable).
The best characters for me are the most human, Spider-Man got bitten by a radioactive spider so was a bit of a goof who had an accident, and Green Lantern is probably my favourite from the DC universe because of that – he wasn't special, just a guy facing his fears.
(You might tell I am a bit of a comic geek!)
Want more? Chris Garrett is an online business consultant, teacher, coach, new media industry commentator, writer (some might argue that point), speaker, and all-round web geek. He has been involved in several startups and has written for some of the web's best-loved blogs. Check out his website and say hi on twitter.
So sparklepants reader, what inspires you? And if YOU were a superhero, who would you be? Would love to hear from you!
Facebook comments:
comments