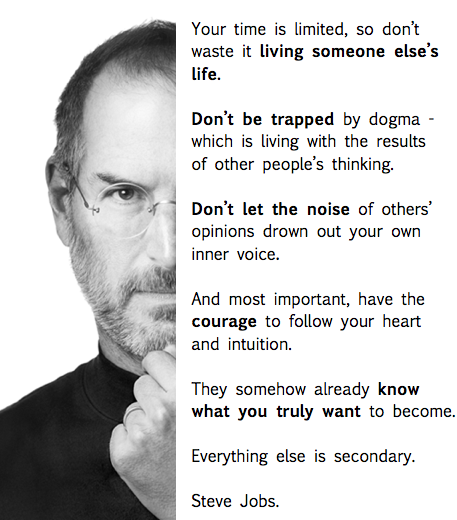 "Here's to the crazy ones. The misfits. The rebels. The troublemakers. The round pegs in the square holes. The ones who see things differently. They're not fond of rules. And they have no respect for the status quo.

You can quote them, disagree with them, glorify or vilify them. About the only thing you can't do is ignore them. Because they change things. They push the human race forward.

And while some may see them as the crazy ones, we see genius. Because the people who are crazy enough to think they can change the world, are the ones who do." – Steve Jobs (1955-2011).
Without doubt, Steve did it his way and changed a lot in our world doing so.
He knew what he wanted and he created the life and products he dreamed about, leaving behind a legacy for generations to remember.
It all starts with clarity of mission, vision and purpose.
Nothing important in the world gets created without that.
If you're wondering what your purpose is and wish you had someone to help, I have just the thing for you.
Jacob Sokol of Sensophy.com created a product that I wish I had.
So I interviewed him on finding your passion and he offered to give away 3 copies of his Living on Purpose $97 package (learn more about it here) to 3 lucky commenters at YLYW.
The Living on Purpose package includes an e-guide, exercises, audios, videos and interviews to:
1) Get Started Living A Life You Love
2) Overcome Fear & Become Courageous
3) Find Yourself & What You Really Want To Do
4) Understand How Happiness Works & Become Happier
5) Discover Your Genius & Be More Passionate
6) Avoid The Trap Of Validation
7) Find & Live Your Purpose In Life
Listen to the audio (around 35 min) or right click to download to your mp3 player, then leave a comment telling us why you want to win.
Oh & it's interview # 15, oops.
In the video:
How to find what you're passionate about
The answers your childhood holds
The difference between your path & purpose
Steering by starlight aka your inner light
Taking action without knowing the next step – should you?
Dealing with change and unrealistic expectations
Decide what's right for YOU, not what society says
How to handle the naysayers, esp when they are family & friends
Creating an environment of success and support
Change happens – deal with it or create it?
Where to find inspiration
Getting started on living the life you want.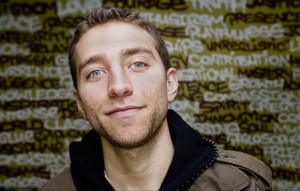 About Jacob: Jacob Sokol is committed to living an extraordinary life and loves helping people like you do the same.
He is the author of "Living on Purpose – An Uncommon Guide to Finding, Living, and Rocking Your Life's Purpose. 
He also loves his mom dearly.
We'll announce the results next Friday, Oct 14th. Don't forget to leave a comment if you want to win one of the THREE giveaways, cheers! Tia
ps: Winners announced!
Click here to see who won.
Facebook comments:
comments