Yay! Just did the Tiny Buddha book drawings on Friday, Dec 23rd and here are the 2 winners! There were 2 drawings done at random.org (screenshots attached). Some names are repeated because they entered twice.
Please send me an email with your mailing address and I'll send it forward to Lori so you can get your gifts.
Thanks to EVERYONE who entered! There are always fab giveaways happening here so you'll get another chance in 2012 🙂 Merry Christmas and Happy Holidays. xo, Tia.
Winner # 1 – Jennie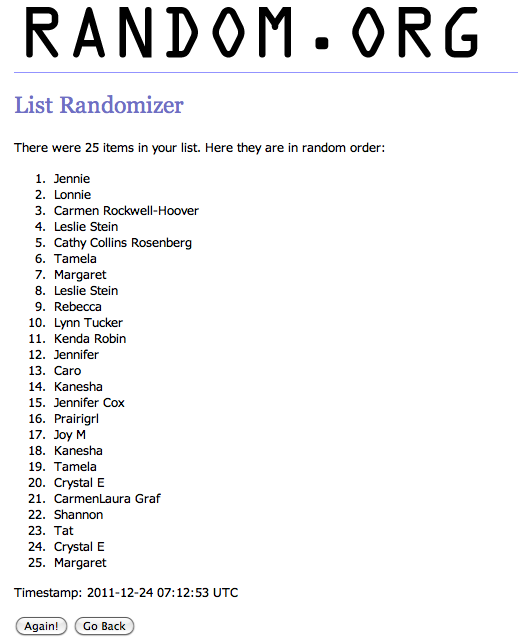 Winner # 2  – Jennifer Cox
Reminder: The Inner Sparkle e-course is back in Jan. This 30 day, 21 email, mini self-help style e-course (in the words of a participant), is for anyone who:
Would love to get 2012 started off on the right foot
Wants daily mojo-revving inspiration & motivation
Would like to be happier, more fulfilled and present in your life
Thinks it's time you met your Kickass Inner self & got a better sense of who you REALLY are
Is SO damn ready to see life & its challenges with a fresh perspective and start shaking things up
Loves the idea of having a fun, safe, space to connect with fellow adventurers AND get my *almost* undivided attention (optional – do it with or without group support). 
What you'll get:
21 days of inspiring, uplifting email prompts spread over 30 days
Short, fun, (sometimes intense) and insightful exercises to do in 5 – 20 min a day
From writing to thinking to playing to surprise mini tasks – expect anything.
A space to share your experiences, learnings & insights in an exclooosif (optional) group with fellow #21Shine peeps. Think facebook.com/YourLifeYOURWay on STEROIDS. In your OWN special secret society of 10X the AWESOMENESS. Hot.Damn. 
For just $35 CAD (with forum) or $21 (do it on your own), this makes for a FABULOUS gift for yourself or a loved one. Go on, make someone's life better in 2012 by gifting them community, perspective, and insights! Click here for more details and to register. 
Facebook comments:
comments