Whew!
What a year.
Back in December 2010, I did a year in review as part of #reverb10, an initiative to reflect on your year and contemplate what's next.
It was the first I'd ever done and writing stuff down really helped me see just how amazing a year I'd had, when I thought I hadn't done anything much.
So dude, this is good stuff.
If only to look, learn, celebrate, recommit and move on with renewed focus, clarity and direction.
Last year I broke it down in 3 parts – business, personal and community. This year, I've gone a little more in-depth with it and have brought some stats into the mix as well as answered some insightful questions posed by a fellow blogger.
The story unfolds …
At the start of 2011, my main goals were:
Launch an online forum for multi-passionate sparklers aka scanners
Do a weekly entrepreneur interview for my Entrepreneur Series (carried on from 2010)
Be clear about my message and niche so my ideal clients know exactly how I can help them
Create a course & worksheets around my Procrastination ebook (currently given away for free)
Grow my online presence, email list, Facebook page, increase website traffic & conversion
Move to Argentina for 3-4 months, hang out with Nat, then come back to Canada for the Summer
Revamp newsletter, be more consistent with emailing my awesome subscribers
Create online courses on business growth, personal growth, and social media
Have fun, be unconventional, build my business MY way no matter what the 'experts' say
Do a Landmark course after being curious about it for 10 years
 So how did I do?
It started off great! I gave up my apartment, sold all my furniture, packed my life in 8 boxes, prepared for Argentina, did the Landmark course (didn't get as much out of it as I thought), bought vbulletin forum software in Jan 2011, started a mastermind group, kept blogging and .. life handed me a lemon,
Argentina didn't happen, instead of summer warmth I ended up in -30 Calgary, had a crisis of "wtf am I doing with my life and business" and started questioning everything.
Remember #9?
I decided to do it my way and my way was screaming to step back, review and be with what was coming up. For 6 months I went on a deep personal journey that transformed the next 6 months to come.

The only things I was consistent about were meeting my mastermind group every 2 weeks, and to continue blogging and connecting with people through social media.

I stopped everything else. Every.thing.
No newsletters, no product creation, no Interviews, no courses, no coaching, and no forum.
Sh**! Was I crazy? Doomed?
This was the biggest test, the biggest leap of faith I took all year – to trust that my intuition was guiding me strongly through a process and that my job was to allow it.
I set one single intention "To be taken care of financially and not have to worry a minute about my finances" in 2011.
And… that's exactly what happened. I had an idea of how this would work out and it unfolded how I'd imagined (family, friends, simple living, savings, unexpected sources of income). Goosebumps!
In April, I wrote a blog post about Scanners that brought out a whole community of multi-passionate renaissance people who learned for the first time that there was nothing wrong with them, they weren't alone and that being who they were was a BLESSING, not a curse as they'd always thought.
This post changed many peoples' perspectives and I got a ton of emails from multi-passionates who told me how their lives had changed by learning this one fact and they could now love and accept themselves for who they were instead of trying to fit in a box.
I knew that I HAD to create a space for us to learn, grow, connect and support each other!
Fast forward to June end. I woke up one day feeling stronger, clearer and more inspired than ever. Things started shifting. Then in the 1st week of September, I did something that altered 2011 forever.
What was that, you ask?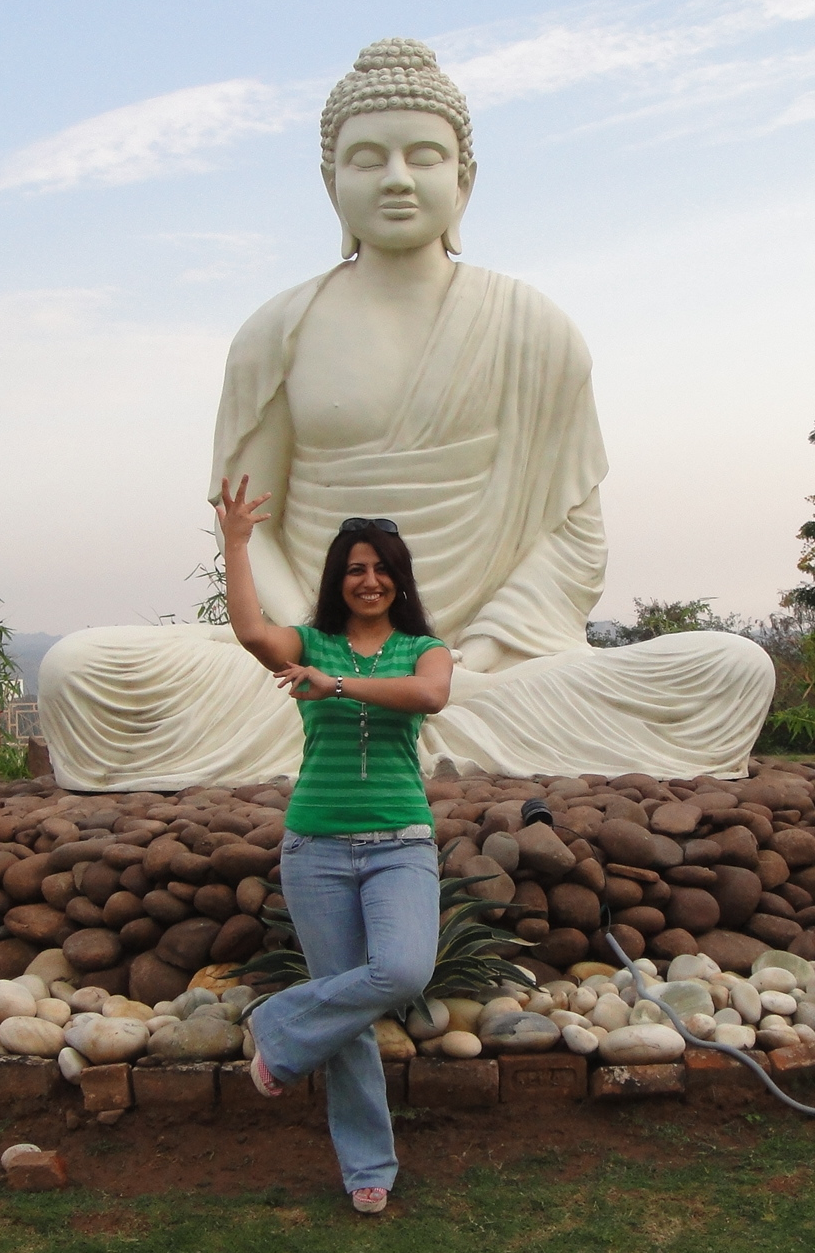 I made a decision.
A simple one, yet powerful in its impact.
After a strong intuitive hit, I decided to get rid of ALL tolerations, be consistent and claim my leadership and place in the inspiration & personal development world.
Specifically, this looked like:
1) Getting rid of my Aweber mailing list account (which I'd had for over a year but rarely used because of how much I detested using it) and moving to Mailchimp. This went against all conventional marketers who insisted Aweber was for professionals and Mailchimp was for newbies. Remember # 9 again? My life, MY way.
2) Letting people go from my life who I was tolerating instead of enjoying
3) Simplifying and de-cluttering electronically, energetically and physically (huge energy release)
4) Doing the Entrepreneur Interviews only when inspired instead of sticking to the 52 week plan (lesson: be willing to change course, halt or quit a direction if it just doesn't feel aligned any more – DON'T drag it on and on!)
5) Saying no unless it was a HELL YEAH (thanks Derek Sivers, for that one!)
Pretty simple, huh?
That's when all sorts of awesomesauce started happening.
Starting mid Sept, I consistently sent out an email to my subscribers on a weekly basis
A young blogger I'd reached out to offering support, ended up helping me expand my reach (Justin, I am forever grateful to you for your largehearted generosity!)
I wrote a blog post that went viral, followed by a couple of other widely shared posts
I created a social media course, launched a super fun and successful self help style e-course, rejuvenated my forum idea, coached, and hired a designer to revamp the YLYW site
Ok, ready for more specifics? Since September 15th, 2011, here's a list of what I term successes.
Successes
Launched a Social Media 4 week video course, which sold out to 25 participants
Launched Inner Sparkle e-course, which sold out to 60 participants
Launched Inner Sparkle II (starts Jan 9th, if you want in!)
Previous clients reported sweet successes, some came back for more coaching after 2 years to move on to the next level
Followed an intuitive hit one night and spent 10 hours creating a post JUST for the joy of it. This was the one that  went viral and brought 100,000+ unique visitors in Sept-Oct 2011
Many other posts were shared thousands of times on Facebook and Stumbleupon
Thanks to Kristi's amazing post, I'd already made sure my blog was set up with calls-to-action, email opt-in-box etc to make the most of unexpected events – and it paid off in September!
Facebook page grew from 1853 to 8000+ members in 3.5 months (currently 8238)
Email list grew from 500 to 1800+ in 3.5 months, and growing every day (Love you guys!)
Decided not to buy any info products or books all year – and did pretty well, buying just 2 products
Contributed a prompt to the Ralph Waldo Emerson challenge
Made my first ever commission from a product sale (followed by a few more, whee!)
Restarted work on the forum, put a date on it (March 15th) + started site redesign work to better reflect the resource site this is
Created a coaches group of over 750 coaches on Facebook to support and share with each other – one of my dreams come true!
Went down snowbanks in a little plastic saucer, lived to tell the tale and then did it heaps more times! There ARE benefits to being in -30 temps after all 😀
Met tons of social media friends in person and forged new friendships
Went from 5000 visitors a month to over 30,000 a month (on average, for the last 4 months)
In Dec 2010, hostgator shut down my blog for 2 days because of "heavy traffic" and it kinda was – tens of thousands of spam accounts created by bots in the forum! Less than a year later, hostgator suspended my site again. And this time, it was because of the insane amount of visitors & hits on the viral post. Ironic, much? 🙂
200,000+ visitors in 2011 – this was beyond my wildest dreams and just goes to show that anything is possible at anytime if you TAKE INSPIRED ACTION, keep showing up and doing what you're passionate about. Don't expect it, but be prepared for it.

"Failures" – in quotes cos nothing's a failure if everything's an experiment!
"Dropping the ball" on blogging after the huge traffic influx – this was a prime opportunity for me to really showcase and convert visitors into readers and subscribers. Although some of this happened organically, I posted just once in November and twice in December! I was busy travelling both months, creating courses and focusing on the Facebook page so blogging suffered.
Not starting on Sparkle Club sooner – I bought vbulletin forum software in Jan 2011, got the ball rolling and then .. ignored it for 6 months. Picked it up again, talked to someone about setting it up and .. dropped it again. I spent ALL year talking about it but didn't start because I had no idea how to structure it. That's 12 months of experimenting, playing, tweaking that could have taught me tons and put me way ahead on the map.
No regrets though. Everything is a learning experience and both these showed me the value of a plan, systems, support network and timing.
Learnings
Show up – even when I decided to take a 6 month break from my business from Jan – June 2012, I was still posting on my facebook page, twitter, connecting with people & meeting my mastermind group every 2 weeks. That made a huge difference because I stayed connected and plugged in.
Gratitude and setting intentions are POWERFUL. When I decided to be more consistent with my list in September, I realised WHY I hadn't been and made a simple change, which changed everything. Opportunities I could not even have imagined, fell into my lap.
Having a support network is one of THE most important factors in success. Without my mastermind group, I might have given up midway through my personal growth process but with them, I was supported personally and professionally and even more than that, INSPIRED by their words and actions in their own businesses.
Although the big stuff happened in just the last 3 months of the year, it was the CONSISTENT small actions that I have been taking for TWO+ years that brought the right circumstances, people and results together. It's NEVER an overnight miracle, and it always pays off to stay the course.
Quit if you have to but never ever ever give up. Persistence is one of my biggest assets, as is believing in my purpose / mission / vision. I choose to do what I do even when I want to throw in the towel sometimes, because my WHY is important enough for me to stick it out.
I refined my WHY, why I do what I do here – to inspire people to love themselves, do what they love and live an extraordinary life, THEIR way. Because we all deserve the life we want, not the one we or others think we should have or want. Personally, I do what I do because I want to live and work on my own terms.
I freakin' ROCK at life, finding the joy in small things and living with intention.
Intuition is my (and your) friend. Trust, trust, trust it.
Top Posts of 2011
10 greatest things that happened in my life in 2011
I ate good food all year, cooked by people who love me
I lived in 4 cities, was well looked after and had no financial worries
My amazing MM group really held and supported me as I did them
I visited India after 3 years and am loving it
I launched 2 courses and sold out 🙂
I made yummy money doing what I love!!
Had a health scare but all my test results were A-1
I hired an amazing designer LisaV to redo my site (coming soon!)
Met old friends after years and re-established our friendships in new ways
I grew up and started treating my business like a business instead of a hobby ~ word
3 lessons I learned in 2011
I was born to shine and help people shine, my mission is to inspire you to love yourself, do what you love and live an EXTRAORDINARY life, YOUR way
Take more risks – create, create, create, experiment, experiment, experiment, ship, ship, ship.
To be successful, I have to know, believe and trust that I already am – and I AM
3 things I'd do differently
I'd have created the forum in Feb 2011 (better late than never)
I'd have created a product for sale much sooner (it's on like Kong in 2012)
I'd have hired a copywriter to help me tell my story better (coming in 2012!)
3 things I will do less of in 2012
Procrastinate on shipping (creating, writing, courses, products)
Learning by reading (time to learn by doing instead, baby)
Mindlessly surf the internet instead of creating (I'm seeing a trend here – create create create)
3 things I will do MORE of in 2012
Be more positive more of the time, trust in the bigger picture
Create more products and SHIP them, ie, take action a lot and fast
Make more money from various sources while having a blast (but of course!)
3 things I will STOP doing in 2012
Complaining about things, being negative and critical
Saying I "wish I had more clarity and direction" – cos I have enough!
Comparing myself to others and using it as an excuse to beat up on myself
3 Goals I will achieve this year
Create Sparkle Club and have 200 awesomepossum paying members by Dec 2012
A strong brand & business model that brings in a consistent monthly income
Live in another country!
3 reasons I want to achieve these goals are
To be successful on MY OWN TERMS doing what I love, living where I want
Cos I damn well deserve financial and professional success, I'm an achiever
To help thousands of people become more confident, happy & live extraordinary lives
Smartest decision I made last year
To bring together 6-7 women I adored and admired into a "Secret Society of Awesomeness" on facebook, without knowing why in the beginning, just following an impulse and then watch it turn into a mastermind with calls every 2 weeks, as well as daily support in the group. Best.Decision.Ever.
What I learned from this – follow your intuition, let people into your vision and co-create something even more magnificent that serves you all!
Biggest risk I took last year
Deciding not to get an apartment after giving mine up in Dec 2010 for the impending trip to Argentina, which never panned out, and moving every 3 months for the rest of the year.
One sentence that sums up this past year
I trusted the Universe to look after me as I took time out, followed my intuition and believed that everything was happening perfectly, leaving the door open to magical things happening – as they did!
Intentions for 2012
My 3 guiding lights are Expression over Expectation (I'll explain more in a blog post), Generosity, and Openheartedness.
Instead of ONE word for the entire year, I'm doing it Quarterly and will let it come to me each quarter. For Q 1, I've chosen EXTREME JOY and FIERCELY UNSTOPPABLE! I also have a list of 7 specific goals for Q 1 but I'm keeping them to myself for now. The big, overall goals are as listed in the section above.
My tips for a crackerjack 2012:
BE you
Make fun a priority
Have clear intentions
Hit a pitch a day, don't worry about where it lands
Listen to what people say but trust your intuition more
Get support by way of a coach, mentor or peer mastermind group
Break big, giant goals into quarterly goals and check in every 3 months to add or take away
Be kind to yourself, ease up on the pressure, know you're doing your best & hold your vision
To sum it up, while I'm grateful for the growth and movement this year, my REAL success has nothing to do with these numbers.
What made me smile the most and feel like I'd done worthy work, was the emails, the comments, the messages and stories from people whose lives had been made brighter, who'd taken action, become more positive and happy, started blogs, found new jobs, increased their confidence and moved closer to living the lives THEY want, rather than following other peoples' dreams.

I can't share most of those here, so I'll just thank the 200,000+ people who read my posts and visited my site in 2011. THANK YOU also to my email subscribers, Facebook fans, twitter peeps and everyone I know!!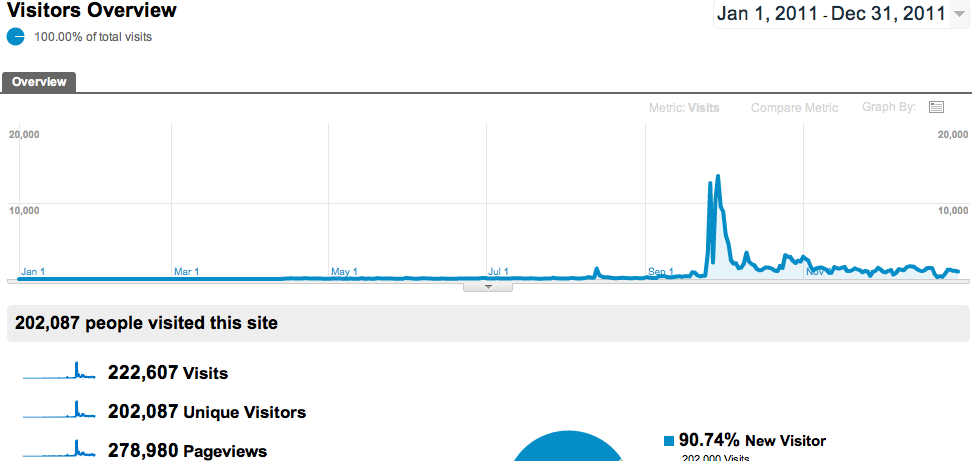 Here's to an awesometastical 2012 for you and me!
ps: In case you're wondering what the "one thing" was that changed everything, no it's not the traffic or the growth or courses – it was making the decision to TRUST my intuition and do what feels good/eliminate tolerations. Try it, it has the potential to change.your.life.
Over to you – what did you learn in 2011 and what are your intentions for 2012? Thanks for reading, sharing and BEING here! You rock! xoxo, Tia.
Stay updated:
1. Sign up here for weekly Tuesday inspiration updates right in your inbox (& get the fun, FREE ebook on 10 top KICKASS ways to stop procrastinating and get things DONE).
2. Join the Facebook page  for daily inspiration & coaching tips.
Xoxo, Tia
Facebook comments:
comments