This is a guest post and giveaway by Lama Marut. We're giving away 3 copies of his book "A Spiritual Renegade's Guide to the Good Life' to 3 lucky readers. The book is geared towards anyone interested in living a happier, more positive, and successful life from the inside out.
UPDATE: We have 3 winners! Jill, Cathi, and Kat. Thanks to everyone for sharing your awesome tips and ideas. See you at the next giveaway, yeah :)? xo, Tia.

The holiday season is upon us and while there is much rejoicing to be done, for some of us this is bad news.
You see, among the many stresses and strains of the season is the problem of what gifts to get your friends and relatives for Christmas or Hanukkah.
It's a problem because it seems like everybody's already got everything. Or the things they don't have / want are beyond your means.
C'mon, really, isn't it true? 
We've got all the gadgets and clothes and our kids already have all the toys and games. At this point of materialistic saturation, anything "new" we acquire is just some exotic or supposedly improved version of something we in all probability already have.
Buying yet more things for people who have everything seems a bit redundant and unnecessary. 
So the big challenge for most would-be gift-givers is to find stuff that people with too much stuff don't have already.
Here's a solution: Don

't buy stuff at all!
This year, why not fight the power of endless consumerism and give your loved ones a different kind of present? If you're on board, here are a few suggestions for alternative gifts:
Give a collection of poems or a short story you wrote especially for someone else.

Give to a charity in someone else's name, or give to someone else's favorite charity.

Pledge to help someone else do repairs on their home, wash their car, shovel snow, rake the yard etc.

Give someone the gift of travel – buy them a ticket to go somewhere exotic!

Take someone out to dinner, a ball game, a museum, an amusement park, etc.

Buy necessities for victims of a disaster in the name of someone else.

Give someone an hour or two of your time to use in any way they want.

Give something you made yourself.

Give the gift of a promise to be kinder, less judgmental or argumentative, more patient, and understanding.

Apologize for something you did to another that you know was wrong and that you haven't yet apologized for.

Make a photo scrapbook of your favorite times with another person.

Elicit and compile a list of nice things others have said about someone and give it to them.

Give the gift of music: something you composed, learned to play, or just a favorite song or compilation.

Give another person a gift of a class or course on something they'd be interest in learning.

Take someone on a day trip – hiking, biking, kayaking, etc.

Gift a day at a spa.

Offer to babysit someone else's kids.

Create a dinner party in someone else's honor and invite all their friends.

Create a new kind of sandwich or a signature dish, call it by someone else's name ("the Mary Ann"), and post it on the internet.

Make a video of you doing yet another joke version of "Call Me Maybe," and give someone that.
So have fun this holiday season, and give more creative and meaningful gifts to those you love. 
They'll appreciate the gift of your time and inventiveness much more than another unnecessary *thing*, don't you reckon?
Leave a comment below with YOUR idea of a fab alternative gift and you'll be in to win one of 3 copies of 'A Spiritual Renegade's Guide to the Good Life' (a gift for someone, perhaps :)? Winners drawn randomly on Dec 13th.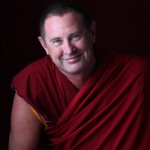 Lama Marut is an ordained Buddhist monk who worked as a professor at Columbia University and the University of California Riverside.
He is the founder and spiritual director of three spiritual centers and serves as a founding board member and staff teacher at the Yoga Studies Institute.
______________________________________________________________________________________
** Want MORE BLISS and less stress in your life?

Inner Sparkle: The 21 Day eCourse

is made for you. Click here 

to get 

inspired. Happy. Sparkly. **
______________________________________________________________________________________
Facebook comments:
comments