You have exactly one life in which to do everything you'll ever do. Act accordingly. – Colin Wright.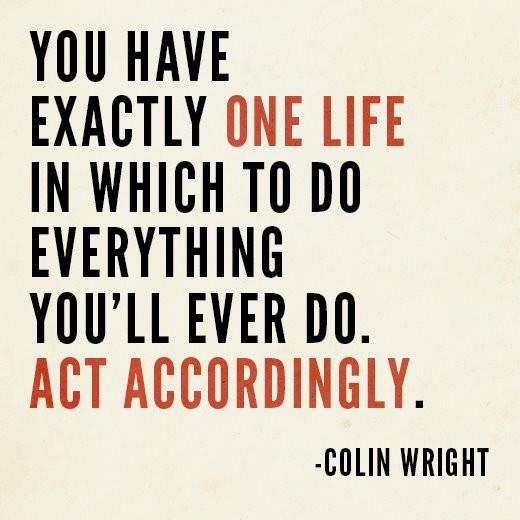 (This is a guest post + giveaway by Colin Wright.)
Just as our philosophies shape us, we shape our philosophies, deciding along the way who we are and how we want to express that to the world through our actions.
I was brought up Catholic.
That shaped a lot about my childhood, and no doubt still influences a lot of what I do today, if subtly.
It's been thirteen years since I decided to change course, and I still get some of that Catholic guilt from time to time.
Figuring out who you are and where you stand on important issues is tricky, post-religion or not. There are no easy answers, and you're forced to step back, take stock, and really figure out who you are and what you believe.
The responsibility is in your hands, and your hands alone.
And if you're anything like me you're not quite sure what to do with it at first. It's a heavy burden. You look around for answers, and might walk in quite a few directions before you find a template to start building upon.
For me, that meant reading up on other faiths and belief systems and figuring out which pieces made sense for me. I discovered a lot that resonated, and tried different guidelines on for size, keeping some and discarding others.
It's an ongoing process, and to this day, this many years later, I still look at it as less a set of tablet-chiseled laws and more a collection of good ideas that I know make me happy, and allow me to better pursue my own happiness in a way that enables others to do the same.
Defining the broad strokes is probably the hardest part of the process, especially if you're trying to do so in a way that makes sense to others if you try and tell them about it.
It took me years to figure out that being happy and helping others do the same was a key component of what I valued, for example, and that viewing people as people first — rather than a collection of other attributes we use to segregate ourselves — was important to me.
Humanism.
It's an imperfect term, because of all the historical baggage it brings with it, but it's very close to what I want to express, and an excellent shortcut term. Look for shortcuts like that, but don't cram yourself into a round hole if you're a square peg.
The more you live a philosophy — understand what it is and try to adhere to it, despite the lack of an authority figure threatening you with punishment should you fail to do so — the more you refine it. Wear down the rough edges so that there's less friction between you and living according to your philosophical ideals.
This sanding process led me to take apart the life I was building in Los Angeles, running a successful branding business and rushing headlong toward early retirement.
It had been a while since I stopped to reassess the path I was on, and it turned out as soon as I did, it quickly became clear that my priorities had changed.
The philosophies by which I was living my life were not synchronous with the philosophies I supposedly believed it. I stopped and re-calibrated  which resulted in my getting rid of everything that wouldn't fit into a carry-on bag, scaling down my business, and hitting the road for a life of full-time travel.
I'd be lying if I told you it was easy.
I knew what would put me back on track, but that didn't mean it was a cakewalk to tear down everything I'd worked so hard to build and start from scratch.
Sometimes sacrifices must be made on the way to philosophical fulfillment, and thankfully the rewards are worth the strain you face along the way.
Today, I'm happy to be able to say I've never been more philosophically satisfied.
I've figured out a way to do what I love, sustain it economically and mentally and physically, and share my work and experiences with others. It's an imperfect kind of perfection, because I know it will change, just as it always has in the past.
But I actually look forward to those shifts: that my guidelines remain malleable and change with me means that they're alive, not stagnating.
It means that I haven't stopped growing.
The philosophies I adhere to today shape me, and will continue to do so in the future. And so long as I continue to be honest with myself, learn along the way, and share what I can with others (and accept what they have to share in return), I feel pretty damn certain the benefits of being morally mindful will just get better and better.
From time to time, take a step back and look at your big picture.
Who you are, who you want to be, who you seem to be through your actions, and how that reflects and adjusts who you are over time. If these things don't align, do your best to figure out why, and how to rearrange (or change) them so they do.
There's no right or wrong way to be, unless it's out of sync with who and what you intend to be.
Take it all in, set your path, and very intentionally become the person you've always meant to be.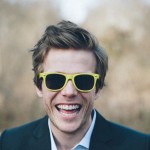 Colin Wright is a 28-year-old author, entrepreneur, and full-time traveler.
For the past four years he's moved to a new country every four months based on the votes of his readers, where he does his best to live like a local, meet amazing people, and experience new things.
He's published 12 books, and is the co-founder of Asymmetrical Press.

And now, for the goodies!!
Colin is giving away 3 kindle/ePub/PDF copies of his book Act Accordingly, to 3 kickass YLYW readers. Leave a comment below and tell us what the best version of YOU would look like to be in to win, Sparklepants (even if you're not totally sure what that is yet). Oh & please l
ike, tweet, pin, G+, send a message in a bottle to share this post, thanks!
About the book: Act Accordingly is a philosophical framework, intended not to serve as a one-size-fits-all template for living, but rather a set of tools that allows a person to craft and hone a philosophy that perfectly aligns with their background, experiences, goals, and ideologies. Covering topics ranging from confidence to logos to cultural relativity, Act Accordingly is a concise read for people who want to become the best possible version of themselves, but are not sure how to get started.
______________________________________________________________________________________
** Want MORE BLISS and less stress in your life?

 

Inner Sparkle: The 21 Day eCourse

 

is made for you. Click

 

here

 t

o get inspired. Happy. Sparkly. **
______________________________________________________________________________________
Facebook comments:
comments