Happiness is not determined by what's happening around you, but rather, what's happening inside you. – Anonymous.

As a life coach, I get asked a lot "how can I live a happy life?".
And the more time that goes by, the more I realize that we all have gotten happiness all wrong.
We think that in order to live a happy life, we must be happy ALL THE TIME.
And since nothing ever stays the same for very long time (that's the nature of life, that things change!), then every time you don't feel happy, you're going to feel like something is wrong.
Here's an example. Has this ever happened to you?
You're happy. Things are going well in your life. Your love life is awesome, work is great, and the sun is shining.
You feel amazing.
But suddenly, you're hit with a feeling of anxiety or even panic.
"Oh my God," you think, "This kind of happiness can't possibly last forever!"
And you start to dread the moment when the other shoe is going to drop (because you KNOW it will).
And because you're so worried about your happiness ending, you can hardly enjoy it while it's here.
(Which doesn't exactly make it stick around, right?)
If you've ever experienced this strange phenomenon (and most of us have, because we're human after all)…then you're in the right place.
Today's post is all about how to remain happy in these moments of panic.
And the answer will surprise you.
(But it works!!!)
Here are 3 surprising ways to find and keep happiness.
1) Expect that you won't be happy all the time.
I know this probably sounds counterintuitive, but it's not actually the "not being happy" that is the most painful thing. It's the expectation that you're supposed to be happy that gets in the way the most.
Life is full of ups and downs. We're happy one minute, and then sad the next. We experience joy one day and then pain the next. But this is a part of life. A part of the human experience.
If we expect that this will happen, we won't be as upset when it does.
If you know and expect that things are going to change, then you won't have to worry about the anxiety of trying to make sure the other shoe isn't going to drop.
2) When you do experience happiness, enjoy it.
As with the example above, if you're so afraid that your happiness is going to go away (i.e. the other shoe is going to drop), then you will hardly be able to enjoy or appreciate it when it's here.
So the trick is that when you do feel happiness, try to enjoy it without attachment of needing it to stay this way forever.
When we attach to things needing to be a certain way, we're actually trying to control them.
And since we technically don't have any control over the things that happen (I mean, haven't you ever been in traffic?!), other than how we react to situations that arise in our lives, this attachment causes us a lot of pain.
One way to diminish this pain is #3.
3) Try the best you can to remain in the present moment.
Suffering happens when we live in the past or live in the future.
For example: a past thought that might cause us pain could be "I shouldn't have called him so soon. I probably totally ruined everything."
A future thought that might cause pain could be "Oh my gosh! I'm happy now but what happens when something changes and I'm not happy anymore, then what?"
Both thoughts, past and future, cause pain. But suffering doesn't occur in the present moment. In the example above, the present moment is that you are feeling good. Happy. Right now.
So the more you try to stick with the current emotions that are happening, right here and right now, the happier you will be.
I'd love to hear your feedback.
Have you ever crushed your happiness by worrying about when the other shoe was going to drop? What did you do in those moments? Do you think happiness is a myth?
Share your thoughts in the comments below!
Still on the happy train,
Sally.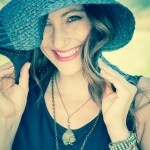 Sally Hope is a motorcycle riding, skeet shooting, hot-pink lipstick loving renegade life coach and the leader of the Wildheart Revolution. Her biggest goal in life is to help you Carpe The Hell Outta Your Diem. For tips on how, join her at www.sallyhope.com or on Facebook, where she hangs out most of the time.
Main pic credit: Still Moments, Flickr.com. 
Facebook comments:
comments