THIS FLIGHT IS OVER. WATCH FOR THE NEXT ONE IN JULY 2013!
YOUR PURPOSE IN LIFE IS TO FIND YOUR PURPOSE


AND GIVE YOUR WHOLE HEART AND SOUL TO IT. – BUDDHA.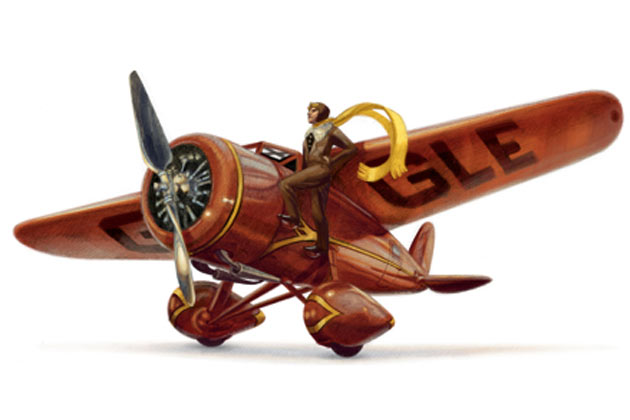 While I LOVE this quote, I don't believe you have to FIND your purpose as much as rediscover,
allow, and EMBRACE it - because it isn't "lost", it just hasn't had the light shone on it yet.
I also believe that your core purpose is simple – to love and accept yourself, be your BEST self, and express yourself fully in the world, to do something MEANINGFUL with your life.
You're here to make a difference.
Everything else just follows from it.
You see, we often get it wrong. We think we have to HAVE, DO, then BE. As in, once I have a relationship / perfect job / direction / clarity, then I will go out dancing / take a vacation /  launch my business, and be happy / successful / creative.
Instead, you've got to BE, DO, HAVE.
Be happy now, feel successful now, be creative now! Then DO from that space – go dancing, take a vacay, launch your business and tweak as you go along. That's how you create space for what you want to happen. And in the meantime? You're feeling all that NOW, instead of waiting for x, y, z thing to happen to claim happiness.
Now, let me tell you a little story that illustrates what I mean..
ONCE UPON A TIME…
…. there was a smart, motivated, free spirited woman. Except sometimes, she didn't feel free. Something was missing.. but she couldn't quite put her finger on it.
Maybe she had lost sight of her dreams and woke up anxious and tired.
Maybe she had TOO many dreams and felt stuck getting started on any of them.
Maybe fear got in the way of pursuing what she really wanted 'cos it seemed so impossible.
Maybe she felt like she didn't really know who she was or what she liked anymore, dammit.
And what if, what if she DID pick one and it turned out to be a mistake and not what she wanted after all? Or failed at it? Or changed her mind mid-way? The horror!
Best not to pick at all, she sighed….
…. and a tiny part of her shrivelled up and died inside at another dream dashed.
It's a shitty thing when you can't get moving because you don't know what to pick or where to start.

And it feels even worse when you do get started and then OH SHINY!, lose focus and interest and quit until the next thing that catches your fancy.

Or to not know what you truly yearn for and yet… feel that yearning every day of your life. To wonder where to go and what to do next and despair of ever seeing more than just glimpses of what you're here to create in the world.
ESPECIALLY when everyone else around seems to be so clear about what THEY want, and living their dream lives.
"WHY NOT ME?", SHE ASKED.
"What's wrong with me?! I wish I could..


Feel more focused + less confused about what to do next.

Figure out what I really truly want, who I am, what drives me, makes me happy – and do it.

Not

cringe

when family and friends look at me and say "you have so much potential, if only ___"

Stop letting FEAR of

failure

,

rejection

, not being enough, life passing by etc, run the show. 

Turn confusion into clarity, m

ake changes and move life in a new direction.

Do what lights me up + make my own hours + have control over my days & time off.
Oh, what she'd give to find a wonderful group of people who GOT her, really understood and accepted her as she was as they journeyed together to find new ways of being + design their lives based on values and purpose +  bounce ideas off each other + let go of fears, draggy thoughts, and failures keeping them back… a safe place to share her inner + outer journey, support them in theirs, and be supported by them.
To do more things that made her heart jump for joy. Soul liberating and gutsy things like…
Wake up excited about her life every day!
Believe in herself + TRUST her intuition more. 
Get clarity on her purpose, her raison d'etre, and bring it to life.
Brainstorm ways to make her passion a living and make choices that work for her.
JUNK the comparison monster and stop wishing she had someone else's life over hers.
Never again be afraid

to show the world who she really is. No more hiding. Full self expression.
OH MY.
She realised she was ready.
To rediscover and reinvent herself. See her shiny-object-syndrome as a GIFT, not a curse. Break out of her playing-small-hiding-place and fly her freak flag high. To not take things personally and instead, use failure as stepping stones to a successful, happy, fulfilled life. Whatever that looks like for her. 
And live, really LIVE! each day to the full.
When the student is ready, Angels sing and it rains puppies. And so, one day, her wish came true. 
She found just such a place where she could have fun & explore her many life and career options + flights of fancy, be more confident and powerful and happy and sparkly and lighthearted and positive and create new kickass habits and let go of icky gremlins and her Inner meaniepants and be freeeeeee.
Of ever being judged "you want to go WHERE and do WHAT!? BE REALISTIC – It's never gonna happen." 

She knew now, that not a day would go by where she didn't feel in control of her own sparkletude and happiness… in CHARGE of her life + self + adventures + passion filled days.
Ever again.
Sound like you? If so, welcome to the… 
 BRAND SPANKIN' NEW SPARKLE FLIGHT CLUB!

              
-
Where dreams take flight and fears get grounded.
What is it? An online membership community featuring 30 days of conversations + inspiration + ideas + challenges + fun + movement around a specific topic / part of your life each month. It officially kicks off in January 2013 but because it's going to be so, SOO fabulous, I'm gathering together a few special peeps for an early flight in October. Want a peek before everyone else, get a taste of it for a month, AND get exclusive discounts in Jan? Zip, zap, zoom in, baby! 
Magic happens when you let things unfold instead of trying to control everything. - Jacqui S, Sparkle Club member.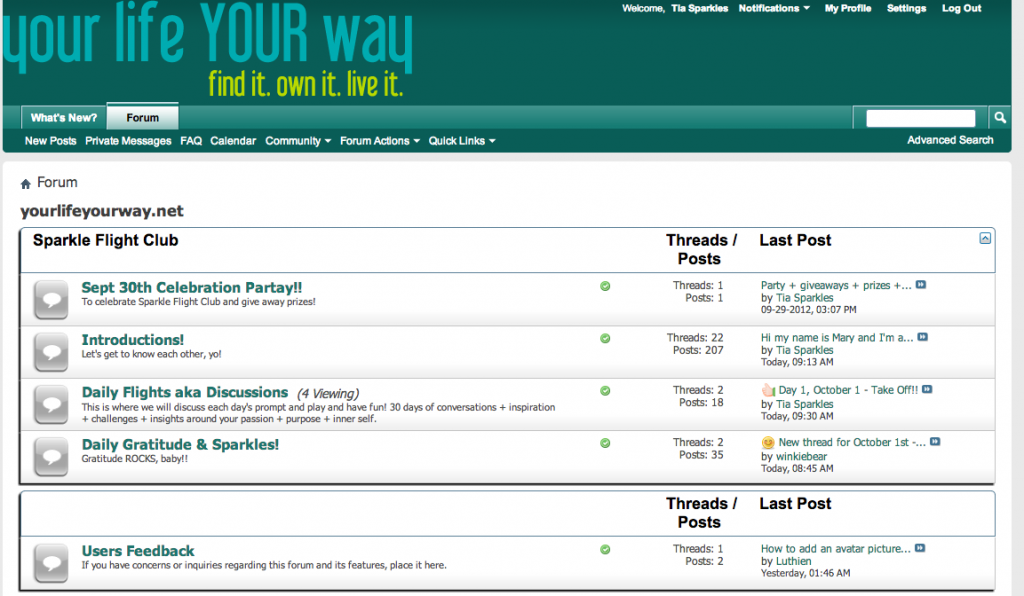 We are 83 adventurers and I'm inviting TWO more inspired or wanting-to-be inspired women to join us.
This is what it'll feature:
Conversations inspired by questions, articles, videos, fun-cercises to make you think + act.

Fluid and moving, I'll create each day's 'prompt' as we go along, with YOUR input.

Delivered daily via email + discussed intimately in the sparkly online forums.
Daily gratitude practice to make the good in your life turn into MORE.

Direct access to me + daily feedback on your questions, thoughts, etc.
Community interaction: be supported by likeminded adventurers.
If you did the

Inner Sparkle eCourse

, it's kinda like that but around ONE juicy topic, JUST like you've been asking me.
At the end of 30 days, I'll create a beautiful PDF eGuide of the best ideas, inspiration, prompts for you to download & keep forever. $30 value on its own.
This ain't your mama's regular ol' "membership site" – the focus is on blowing your mind + world open, experimenting, having fun, connecting, conversing, being real, learning from each other. Let's get fresh! 
Your round-the-world-in-30-days UNLIMITED ACCESS October pass:

$30 CAD.
OUR FLIGHT DESTINATION FOR OCTOBER:  
Exploring & rediscovering your Inner Self, Passion + Purpose.
I

S THIS EXPERIENCE RIGHT F

OR YOU?
It is if what I've said so far resonates + you're sick to death of feeling stuck and unfulfilled + you want to:
Be happier, sparklier.
Have more focus and clarity.

Ditch 'playing small' and dream big. 

Amp up your self love + care and nurture yourself .
Tap into your power and Inner KNOWING and TRUST it.
And if you enjoy sharing, being a part of a bigger community, adventure and creating what you need as you go along. 
Here's what Karen, who just signed up, has to say:
Oh my goodness, Tia! It is after midnight Eastern Time United States, but I could not stop reading all of my fellow Sparkle Buddies' messages. Then I just read your response to _____ . The Sparkle Flight Club has not started officially, and your statement just hit me in the face!!! 

I, too, have reached a certain point in my business, and I allow any excuse to stop me from moving forward. I would become so frustrated with myself because by the end of the work day, I had not accomplished many tasks. When you mentioned a "Payoff" and more responsibilities and restricting Freedom (one of my dearest passions and values), I knew I was sabotaging myself just as you said. OMG!

Tia you have helped me so much already with this one statement. I cannot even imagine how much more I am going to learn and grow with this group. 

Thank you! Thank you! Thank you! – Karen.
IT'S NOT FOR YOU IF YOU:
Always complain, but rarely take action – be ready to sh*t or get off the pot.

Need to know exactly what is on the agenda every single second (be prepared for air bumps, homey).

Are not willing to play, have fun, or take detours to watch a spectacular sunrise – be open to structure AND flow.
If everything is an experiment, nothing is a failure. Adopt that, and you've earned your first stripes + a place on board this charter flight!
ARE YOU..
Wondering what your life purpose is, feel like something's missing, spiritually open + curious, seek to be the best you can be, action-oriented, actively looking to improve your life and take full responsibility for your present and future?
Or simply curious about how this is all going to play out? Listen, if you value freedom, fun, expression, personal growth, non conformity, authenticity, community, you'll love it.
AT SPARKLE FLIGHT CLUB, YOU WILL:   
Look in the mirror and really SEE yourself.

Dig deeper into your passion & life purpose.
Get clearer, shift perspectives, have new insights & ideas.
Get tips & tools to knock out negativity & fear holding you back.
Create opportunities and make the most of every situation.
Get daily support, smiles, encouragement from me to keep you inspired. 
I have a strong intuitive ability to see the light in people and I see your greatness + unlimited potential even if you can't just yet (believe me, you WILL). By Jove, you are a powerful, magnificent being who deserves all that she desires.
Honestly? Anything could happen. That's what makes it so exciting!
Get your unlimited access October pass for CAD $30.


THIS FLIGHT IS NOW FULL. WATCH FOR THE NEXT ONE!
FAAAAAAQS:
1) WHAT WILL I BE EXPECTED TO DO? Simply Be You. Show up. Participate. Tell me what's working in your life, what you want more of, less of etc. We'll play together and create based on YOUR needs.

2) WHAT IF I DON'T LIKE IT? Check out Your Life YOUR Way on Facebook – if you like the vibe & content, you'll love SFC! Listen to your intuition on this one, it's a great way to start making decisions based on gut feel.

3) THIS SOUNDS CRAZY! I know, so was Amelia Earhart, right? Only fellow crazies need apply

4) I CAN'T AFFORD IT. It's $30. That's the price of 2 regular meals and will fill you up WAY longer & better. You SO deserve that.
5) WHY SHOULD I PAY FOR THIS WHEN I CAN GET IT FOR FREE IN SO MANY ONLINE COMMUNITIES/YOUR FACEBOOK PAGE? Great questions, love 'em! So think about it & tell me – what WOULD you be willing to pay for in summin' like this? Here's my POV:
For starters, this is going to go way deeper than we can go on the Facebook page.
Online communities and pages don't dedicate a whole MONTH to one topic like we will. 
You'll get individual attention from me – dude, that's worth a LOT in sparkles. 
It's a safe space – some things you just don't want to talk about in public, open forums, right? 
What happens in Flight Club, stays in Flight Club .. no Peeping Toms allowed, muahahha.
When SFC hits the red carpet in Jan 2013, October Charter League members will get super special deals that will delight and surprise you. Word.

6) I DON'T HAVE ENOUGH TIME. That's okay. I understand that life gets busy and you might need time off. Even if you check in a few times a week, you'll get great value.

7) DO I HAVE TO BE MULTI-PASSIONATE TO JOIN?  NO! It's not just for people with a kajillion passions, this digital experience is for ANYONE who wants to get closer to their passion + purpose, be it one passion or 50.
8) YOU KEEP TALKING TO THE LADIES.. ARE GUYS ALLOWED IN? Oops! Yes, yes, YES. It was just easier to talk to my Amelias' but we'd LOVE you to fly with us, ye Charles Lindberghs'.
9) WHAT'S WITH ALL THE PINK? YOU'RE SUCH A GIRL! Oh wait.. that's just the voices in my head. Ahem.. moving ON.. you're either in or out – no maybes allowed! Hey, just following my Co-Cap'n Yodapants' orders: Do or do not. There is no try. 
10) OK, THIS IS AWESOME + I REALLY LIKE YOU. SEND ME A HUG & I'LL HELP SPREAD THE WORD.  Awwwww! You just MADE.MY.DAY
I'd send you a bucketful of hugs anyway but bless your big, open, generous heart for caring & sharing. Just scroll to the bottom and hit the like/tweet/G+/pin/stumble buttons, email the link, send carrier pigeons, throw paper airplanes, pass notes in the class – I'm SUPER grateful for it all. Thank you from my wings to my toes!
HOT DAMN, I'M IN! HAND ME MY BOARDING PASS, SPARKLEPANTS.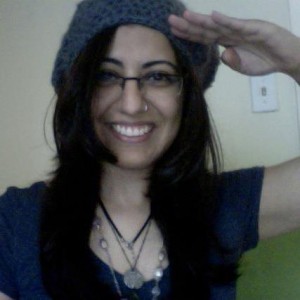 Got more questions or thoughts?
Hit me up at tia at coachtia dot com, yo.
Can't wait to welcome you aboard
Cap'n "Amelia TiaHEART" Sparkles,

Chief Flight Instructor & Magic Maker

.
Salut!
* Plane image source: Google/AmeliaEarhart.com