Decisions Shape Destiny.
That Tony Robbins is alright. There's a #Tedtalk by him at the end of this post and it's inspired this little chat we're going to have about decisions, choice and using our powers for evil or good. Let's roll.
Who are you? I mean, what kind of person are you?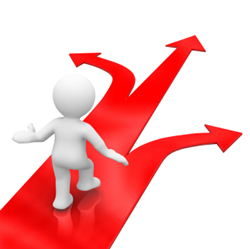 One who wakes up in the morning with a list of complaints? Or one who always has something positive to say? Are you a slave to your habits or are you consciously creating the life you want? Do you think you're a negative or positive person? What do others say about you?
Take this as an opportunity to reflect on this moment. How are you feeling right now? Tired? Happy? Anxious? Energetic? Lazy? Angry? Excited? Fulfilled? Curious?
Think back to what you were doing or thinking just before this.
How did you start your day? What happened? Did you rush around getting ready for an appointment and drink a gallon of coffee? Did you start your day with a smile or a whine? Are you running through a laundry list of to-do's and getting things done or getting ticked off?
Turn your attention to your body.
Do you feel any tension anywhere? Do a quick body scan. Are you feet relaxed or curled up? Your legs, stiff or flexible? Are your shoulders hunched up as you type or read? Take a deep breath in and let your body relax. Notice what relaxed, where you were holding tension.
Take another deep breath. Relax.
You do know that how you start your day has an effect on how the rest of it unfolds, right? AND just in case you forgot, let me tell you that you also have the choice to change it if your day's not going like you want.
To get out of your own way, be mindful of the thoughts you allow to STAY in your mind & the DECISIONS you make on a daily basis.
In a 24 hour day, you've got about 16 hours of waking thought. That's not something you can change (maybe by a few hours) but what you DO have power over is the quality of your day.
Each moment reflects a decision you made. These decisions are what affect your mind, heart and soul as they direct your energy in places you want to go (or not).
Think back to the last 5 decisions you made and answer these questions.
Did you make them happily?
Did you "should" yourself into them?
What decisions came easily to you?
Which ones did you complicate?
What's an area of your life you're feeling stuck in and can't make a decision about?
As I see it, there are two kinds of mindset (even though we're each a combination of them, you'll know which one you have MORE if you've answered the questions so far).
You're either a Pesky Problemist (yep I made it up) or a Sparkly Solutionist.
If you're a whiner and pesky problemist, you'll always look for the worst possible scenario and swim in the muck, lamenting your sorry state for hours and days and to anyone who has the misfortune of getting in an elevator with you. You're not all bad though, you have a good heart but you just haven't learned to tap into your own power yet!
If you're a sparkly solution seeker, you'll acknowledge the worst possible scenario, maybe even dwell in fear for a few moments, whine a wee bit (throw a pity party and then get over it) and then strap up your boots and start looking for ways to change either your situation or your state of being. You GET that you're the boss of you.
Look, we ALL have challenges. But happy people have this going for them – they look at problems as opportunities for learning, growing, experiencing and consciously choosing how to RESPOND to them, rather than reacting.
It's important to fully feel your feelings so I'm not advocating sticking a fake smile on your face – rather, feel feel feel it out but don't let your feelings define you or have the power to make or break you.
Happiness really IS a decision. It's a choice.
People who are miserable, CHOOSE to be unhappy. Happy people choose happiness and then practice it daily. So now, answer this question – what kind of world do you live in? What kind of world do you WANT to live in?
Remember, you get to choose your destiny, your direction.
Every Single Moment of Every Single Day. Take it away, Tony.

Facebook comments:
comments