"I find the great thing in this world is not so much where we stand, as in what direction we are moving: To reach the port of heaven, we must sail sometimes with the wind and sometimes against it, but we must sail, and not drift, nor lie at anchor" Oliver W Holmes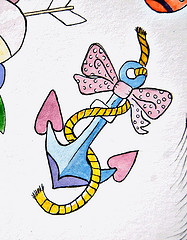 Ah Sir, but I disagree.
Sail by all means. And know that there's a time to sail, a time to drift and a time to anchor. This week, I appreciate:
Anchoring. Coaches aka Transformation Agents. The Interwebs.

1. Anchoring: The feeling of being grounded, yet undulating. Firmly rooted, yet free flowing.
Soaring in the skyesies and having someone and someplace to come back to, letting life cover you like a weighted blanket of comfort and throwing it off to delight in the Sun.
Feeling safe enough to explore, knowing that there's always solid fluidity waiting for you, whether it be a structure or the world of possibilities you've created in your mind. Anchoring is essential for us creative, scannery, sparkly types.
When I am adrift, I am visiting, experiencing, marveling.
When I am anchored, I am freed to share with grace, peace, trust, joy.
The beauty and blessing of having people, places, things, ideas and thoughts that inspire and anchor you. Beliefs. Values. Daily rituals. Laughing. Certain friends. Faith in a bigger power. Connecting to source energy. Oneness. Innocent love.  Being anchored. Being an anchor for others..
What anchors YOU?
2. Transformation Agents. Like Lachlan Cotter. The kind of coach and friend you want in your corner who really gets you and lets and abets the powerful, connected source within you with tenderness, love, generosity, awareness and presence.
Coaches are my favourite kind of people in the world. Where else can you get such unconditional support and championing from someone who you often haven't even met in person? Bless you all for the work you do!
3. Hallelujah, The Interwebs! I am so grateful for our interconnected Universe and the interwebs for widening my world and bringing so many amazing people into my life that make my journey easier, funner and happier. I'm talking to YOU. Yay, Internet & Social Media!
What are you appreciating this week? Thanks as always for sharing your energy, words and time!

Facebook comments:
comments