Resurrecting the Your Life YOUR Way Unconventional Entrepreneur Interview Series with Karol Gajda, a Ridiculously Extraordinary Freedom Fighter who sails the internet seas, fights piranhas* and rides rollercoasters all over the US. His mission? To help 100 people achieve Ridiculously Extraordinary Freedom. And although he's a vegetarian, I can't help but wonder if any flies were harmed in the pursuit of freedom ;)?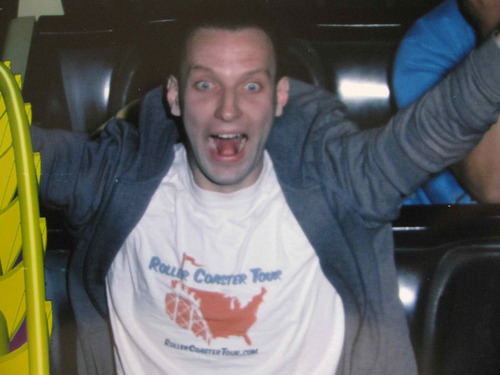 1. What does Your Life YOUR Way mean to you? When did you realise you were living life your way and how did that make you feel?
I've never really known anything else. I've always been hustling and haven't worked for anybody else for over 11 years now. As far as the people closest to me, I've always been the black sheep. In a way it was incredibly lonely. Blogging has made it a lot less lonely because I've been privileged to meet so many like minded people.
2. Many people fail to get going because they have so many passions that they can't decide which one to pick. How did you discover and pick (if you had more than 1) a passion you could turn into a business / career you love?
I don't think most people have multiple true passions. Most of us have something we love to do more than anything else. Can that be turned into a business? Sometimes. Is it even worth turning a passion into a business? Sometimes. Is it worth a shot anyway? Always.
What happens is we misconstrue "passion" for "I think this will make the most money even though I don't love it." That's a rabbit hole you don't want to go down.
3. What was the biggest challenge / fear you faced in turning your passion into a living and what was the first step in getting past it?
Doing my own thing was never a choice for me. It was Plan A, Plan B, Plan C, and so on. The challenge was dealing with the naysayers around me. Maybe people mean well with their "are you sure you know what you're doing?" type comments, but they should keep their mouths shut. Support your friends/family or keep your boring, negative, comments to yourself.
4. What one most important piece of advice would you have given yourself when you were first starting out? Is there anything you would have done differently?
I would have done everything and nothing differently. We can't change the past so there isn't too much value in dwelling on it. Yes, it's good to learn from our mistakes.
Repeating a mistake is entrepreneurial sin #1, after all. But everything I did the "wrong" way in my past has taught me everything I'm doing the "right" way today.
5. What are your best daily / weekly habits & practices to help you stay inspired, productive & making progress esp when it gets tough?
I have no habits or practices. Sometimes I work all day. Sometimes I don't work for days. Sometimes I don't sleep because I have to finish what I'm working on. Sometimes I sleep-in until the afternoon sun is shining at its brightest. If we're doing what we should be doing we don't need inspiration. We simply get done what needs to be done with a smile and a spring in our step.
Thanks Karol, what a kickass attitude you have!
Want More? Karol Gajda (that's "Carl Guy-Duh" to you), unusually enough, has been cubicle-free all his life. He's written a free downloadable manifesto "The American Dream is Dead (Long Live the American Dream)" as well as 2 popular guides on Mind Control and How to Live Anywhere & Be Free. Karol believes in radical honesty, upside down canyon swinging, polka music and being a badass at all ages. Especially at age 6. Check out his Ridiculously Extraordinary online digs here & on facebook.
Over to you – what's the biggest fear/challenge facing you in doing what you love? Got any questions for Karol? Let's hear from you, freedom-ist!
ps: check out the YLYW entrepreneur interviews here. They're back on once a week, usually on Fridays, sometimes on Wednesdays.
*this may or may not be completely made up by me.
Facebook comments:
comments