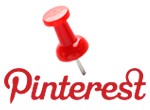 What is pinterest?
 Simply put, it's a virtual, all over the interwebs, ginormous pin board that is even more addictive than Facebook,as if such a thing was possible. As I found out 3.5 weeks ago, after ignoring my invite for 3 months.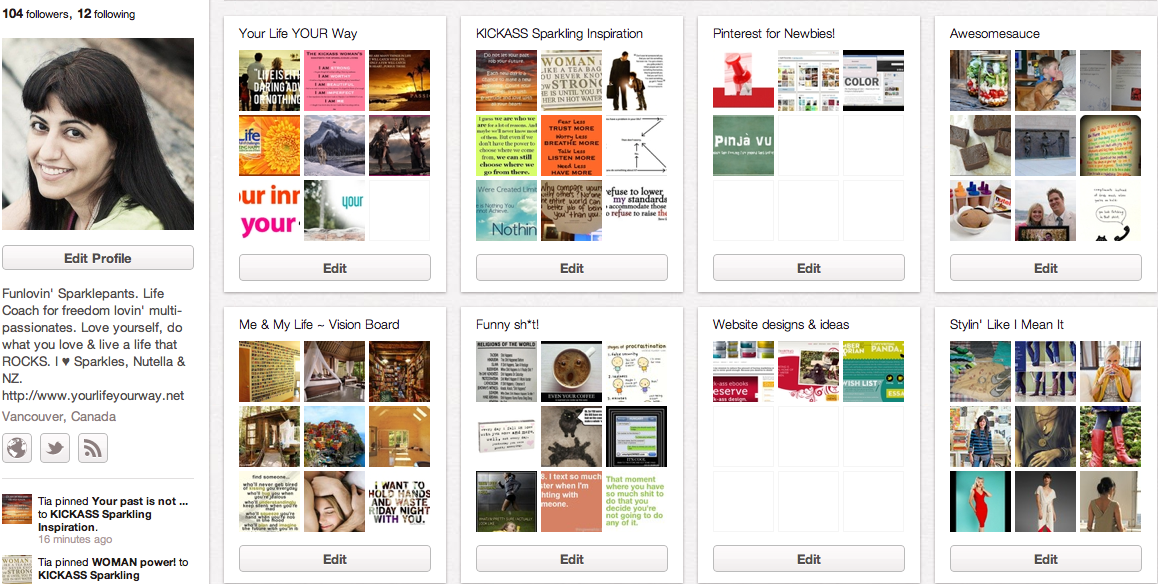 "Pinterest lets you organize and share all the beautiful things you find on the web. People use pinboards to plan their weddings, decorate their homes, and organize their favorite recipes.
Best of all, you can browse pinboards created by other people. Browsing pinboards is a fun way to discover new things and get inspiration from people who share your interests."
That's their spiel. But as I see it, there's way, way, way more to it.
When google analytics showed me that pinterest was now the # 1 referrer of traffic to my Facebook page in just 2 weeks, ahead of even this website, I KNEW it was gold.
It has huge potential for small business owners, self employed people, big business, brands, solopreneurs, bloggers, coaches, pretty much … everyone. How? Let me count the ways.
Here are 50 ways small businesses and self employed professionals and creatives can market using pinterest:
Sell

 your products and services
Build interest and awareness about upcoming events, services, products, branding etc
Offer discounts to pinterest followers

Hold contests

for your business
Promote your upcoming book in storyboard form (or get ideas for writing)
Create a visual representation of your business
Establish your expertise, go-to-ness and helpfulness by sharing useful, valuable information

Make

 

different boards for different topics

 

to segment your audience so people can choose what they want to follow instead of having to follow all your boards (good for targeted followers)

Create and

build your community in 5 ways

Get inspired, motivated and creative
Do

market research

for new product ideas
Ask questions and learn new things from those in your field
Build your brand by showcasing 

your blog and website

Share tips and images relevant to your industry (even if you haven't created them yourself)
Create your own images and imbed urls in them

Collect valuable resources

for clients and readers
Collaborate on projects
Find images and infographics to use in your blog posts
Connect with your tribe in a

more personal way

Create videos and pin them on a special board (thus hitting the auditory AND visual buttons)
Add your pinterest url to your digital signature & in your ezine for more exposure

Brighten up

the day with some funnies – regular happy breaks = more productive work 😉
Increase website traffic! Link your pictures to your website or

Facebook fan pag

e and get new sources of traffic (pinterest is now the # 2 traffic referrer to my Facebook page, ahead of even this site!)
Use your keywords to describe these boards (yay, SEO)
Share your pins on your social media networks

Let your styl

e

attract your right people (esp if you're a personal stylist, designer etc)
Redo your home office
Find things to do on a budget
Create tutorials and

"how to"

series via images or videos
Do reviews & recommendations of products people want, even if not yours

Inspire people

 – no matter what your business, you are always in the business of inspiration
Create a

vision board

 and amp up your daily manifesting
Use interesting images to get peoples' attention
Grow your community and network the right way
Showcase your

portfolio

Find useful time management, productivity and lifestyle information (although to be fair, time management will go for a toss – it's even more addictive than facebook .. but a lot more useful)
Use it like a search engine – search terms to find revelant information, get insights and ideas for your business
It's a visual representation of real time trends just like twitter
Collect ideas for

website design

Find and follow like minded people (comment on their pins & repin them to connect)
Share your favourite books, connect with your fave authors (interview them, learn from them)
Share

travel destinations

(great for travel bloggers, travel agents, destination home owners, bed & breakfasts etc), recipes (food bloggers) and so on
Share generously, not just your own content but that of others
Use it to shine and be authentic, it's a powerful platform for you and your work
Give your boards interesting,

simple

, and descriptive names to make it easier for people to find and follow
Facebook is a social connection network, pinterest is about ideas, inspiration, design, visual appeal, and has a high aspirational aspect
Follow a few big names to get started, leave comments, tag people

Add the pin it button 

to your browser and pin anything on the web
Put a pin it widget on your website so readers can bookmark & share your posts and images on pinterest
Get intentional – are you looking to drive traffic to your blog, create awareness for your services, build a brand, connect with people, get ideas, share, or .. ?
If you found this post useful, please bookmark, pin, and share it with others, thanks!
What other ways have you seen pinterest be used for business?
Did any of these ideas help you? I'd love to hear from you!
Oh and I have a handful of pinterest invites – if you'd like one, leave a comment below and I'll email you one. 
You can also connect with me on pinterest and check out the Marketing your Business with Pinterest board where I've collected some great articles and posts to help you use pinterest effectively.
Got questions, thoughts, feedback? Happy pinning!
PLEASE DO NOT COPY THIS ARTICLE. You may link back to it, but copying more than 1-2 points is NOT appreciated, and pasting the ENTIRE article on your site with a tiny link somewhere amounts to plagiarism! If you have done this, please remove it asap. Thank you.
________________________________________________________________________________________
** Want MORE BLISS and less stress in your life?

Inner Sparkle: The 21 Day eCourse

is made for you. Click here 

to get 

inspired. Happy. Sparkly. **
________________________________________________________________________________________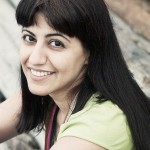 About Tia & Your Life YOUR Way:
Life Coach / Awesomeness Inciter + Inner Sparkle Activator Tia Sparkles offers tips, advice, community hug-a-thons to ignite your Inner Sparkle — that shimmery part of your spirit that says YES to courage + connection, and NO WAY to 'shoulds' + restrictions.
She loves Nutella, New Zealand, Yoda, & Sparkles.
Facebook comments:
comments