If you celebrate your 'differentness', the world will too. It believes exactly what you tell it. Through the words you use to describe yourself, the actions you take to care for yourself and the choices you make to express yourself. Tell the world you are a one-of-a-kind creation who came here to experience wonder and spread joy. Expect to be accommodated. – Victoria Moran.
(This is a post by Elise McDowell).
Damn it! 
If only I had learned and embodied the above quote in my early teens then I'd be rich, happy and sippin' margaritas in the Bahamas right now! 
Yeah right!
In my teens I was a hard-core self-loather. Yup, I was a regular ol' negative nancy and my conversations, thoughts and self talk consisted of how ugly, fat, stupid and insignificant I was.
Ick.
I remember this one time it got to the point where I felt so awful I tried to cut myself in art class with a cardboard cutter. I didn't get very far – it hurt too much.
I was reckless with my thoughts; I had no idea that you could train your mind. I thought that everything that happened was out of your control and you just had to hold on.
Wow, could I be any more wrong?
I don't know the exact moment when things started to go off in my head that I could change all of this. I think I was 18.
But whatever it was, and as small as it was, that little light within me started to flicker a little brighter.
Now, I know that everybody at some point in their life has had an issue with self-love. Whether it was short and temporary or whether you're still battling yourself – you need to know this and you need to know it now.
YOU are LOVED.
No matter where you are, who you are, what you've said and what you've done, you are and always will be loved. I can't stress the importance of this. Your journey can begin now if you choose to let the love in.
Choose yes.
Say YES to letting go of the pain, say YES to learning to love yourself, say YES to wanting something more, say YES to changing your life!
We'll start with baby steps.
Look back with LOVE.
Look back to the past with love and forgiveness. Forgive yourself for what you were like, how you thought, what you said and what you did. Look back at that younger version of yourself with love and appreciation for what she knew at the time.
Start associating new thoughts and feelings to that period, look at it with light rather than sadness.
Take Care of Yourself.
Imagine you are a pure and innocent 5 yr old again. You're full of life, enthusiasm and energy. The whole world lights up in your eyes and the energy you have is pure love.
What would you do for this child? Would you protect her from anything that tried to harm her? If she was scared or sad would you be there to comfort her and pick her back up again?
Start thinking of yourself as an innocent once again and protect and nurture yourself with love.
Start a Self-Love journal.



Buy yourself a pretty colourful journal and get creative! Write lists of things you love about yourself, what qualities you admire in other people and would like to adapt as your own and 100 things you want to do that scare you a little.
Draw pictures, write your thoughts and feelings, paste pics and clippings you love, create affirmations and meditations you can do everyday.
Do the things you Love.
What activities do you love doing? What places do you love visiting? What music do you love listening to? What foods do you love eating? Who do you love spending your time with?
Spend more of your time doing those things that make your heart sing. Life is far too short to do the stuff you don't actually like doing.
Get your Gratitude on!
This is probably the most powerful thing you can start doing today. If this exercise is the only one you ever do after reading this article that will be enough.
Someone once said that "true happiness is giving it away" and that is 100% true. Give gratitude for everything you encounter.
Every morning when you wake up start writing a gratitude list in your self-love journal. Whatever comes to your mind whether it's the sun, your mum, chocolate, your pet walrus, the dress you just bought – ANYTHING!
Just appreciate everything that's right in front of you. That is the secret recipe to changing your life and your love for yourself.
To cap it off, here's what a smart lady has to say about self love and empowerment:
I am so beautiful, sometimes people weep when they see me. And it has nothing to do with what I look like really, it is just that I gave myself the power to say that I am beautiful, and if I could do that, maybe there is hope for them too. And the great divide between the beautiful and the ugly will cease to be. Because we are all what we choose. – Margaret Cho.
Ready to celebrate yourself yet?
In the comments below, tell me what is one step you can take TODAY to start giving yourself the love and care that you deserve. Ps: If you liked it, please share this post, thanks!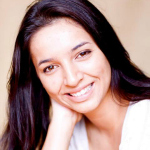 Elise McDowell is the kick-ass creator of The Inner Vibrance Project. A venture that both empowers and encourages women to ignite their inner vibrance and start living a fun and playful life!
Join the fast growing and popular project and connect with Elise on Facebook and Twitter. 
______________________________________________________________________________________
** Want MORE BLISS and less stress in your life?

Inner Sparkle: The 21 Day eCourse

is made for you. Click here 

to get 

inspired. Happy. Sparkly. **
______________________________________________________________________________________
Facebook comments:
comments