The food you eat can either be the safest and most powerful form of medicine or the slowest form of poison. – Ann Wigmore.
Simple green smoothie for beginners
Since my first attempt at making a green smoothie some 5 years back, I've come a long way.
Green smoothies are my favourite breakfast choice as they are quick and easy to make, and full of nutritious goodness.
Since I've embarked on a 12 week sugar free challenge (not all days are a success, but hey), I figured I'd get my sweet tooth taken care of by way of fresh fruit and berries, whilst ensuring my daily dose of the dastardly greens.
If you've never had a green smoothie before, you must be wondering if it tastes gross or bitter – like a jug full of bitter, green veggies, perhaps?
Let me reassure you, this is one of the yummiest and smoothest greenies I've ever made – perfect for someone new to green smoothies, AS WELL AS a seasoned smoothie drinker.
A general rule of thumb is to have more vegetables than fruits in your smoothies so as you get used to drinking smoothies, you can increase the greens to 60-70% and reduce the fruits to about 30% (for eg: half a banana instead of a full one, no dates, etc). Stick to low GI fruits like berries and avoid the high sugar ones.
Why green smoothies, you ask?
Check out these 10 super duper benefits of green smoothies:
A simple, yummy way to get 2-3 servings of vegetables and fruits in one go

Boosts your energy and aids your digestive system (better bowels!)

Fills you up for longer so you can fight hunger and cravings for junk food

Helps with fat / weight loss for the above reasons

Clear, vibrant, glowing skin and hair as a result of all the nutrients

Full of minerals and antioxidants that protect your cells from free radicals  

Kids will love them, especially when you start them off with a higher fruit vs veg content 

Great for managing hormone imbalances and diabetes (with a higher veg to fruits ratio)

Low GI alternative to fruit juices and sugary drinks

Detoxifies your body and strengthens your immune system
And if that isn't enough, I'll talk about the ingredients I've used + why they are such havens of goodness.
Chia seeds: this superfood is chock full of vitamins, omega fatty acids, fibre, proteins, minerals, and is high in anti-oxidants. Good for weight loss as expands when mixed with water and thus keeps you feeling full longer.
Flax seeds: a rich source of fibre, omega 3, fatty acids, manganese, vitamin B1. Essential fats in flax are great for glowing skin and hair, lower cholesterol, digestive health, and weight loss. If you can't find chia seeds or they are too expensive, flax (also known as alsi) is a fantastic addition.
Bananas: high in potassium, vitamin B6, fibre.
Kiwis: good source of Vitamin C, K, E, folate, potassium
Berries: rich in anti-oxidants, phytochemicals, they have a low GI and help to regulate blood sugar and boost your metabolism.
Spinach: one of the most nutrient dense foods, an excellent source of Vitamins K, A, B1, B2, B6, B6, zinc (amongst many others!), dietary fibre. 
Almond milk: wonderful alternative for anyone who's lactose intolerant. You can make it at home or buy it at the store.
Convinced yet?
Give it a go once. You've got nothing to lose and a heck of a lot to gain.
Without further ado, here's my made-up-on-the-spot-green smoothie recipe of the week. This makes 2 medium glasses, enough for 2 people. I drank mine in a beer glass and a regular juice glass.. just because I can.
Ingredients
Servings: medium glasses
Instructions
Gather your ingredients -

Blend the fruit, berries, spinach, dates, peanut butter, almond milk, and water for a minute or two (till it has a nice smooth textures).

Add the cacao powder, chia seeds, flax seeds. Zap for about 15 seconds or till well blended.

Your smoothie will end up looking like this. Pour and enjoy!

All for meeeee!! Sunshine + smoothie = sublime BLISS.
Smoothie tip:
Never swallow smoothies down like water. Instead, take a sip and make a chewing motion a few times before swallowing. This releases enzymes in your saliva which help to digest the sugars / carbs in the most optimal way for your body .
ps: you can use frozen bananas and berries for this smoothie if fresh aren't available. It's the perfect temperature for a winter drink but in the summer you might want to throw in a couple of ice cubes.
pps: I usually use almond butter and blueberries but since I couldn't get my hands on either, I've substituted with peanut butter and strawberries. If you're going Paleo or have nut allergies, just skip the Peanut Butter altogether.
ppps: This smoothie is of medium thickness. If you want a more watery consistency, add more water to it. Also, chia will turn the smoothie into a gelatinous blob the longer it sits around, so this is a smoothie you have to drink right away. Leave out the chia if you want to store it in the fridge for a few hours.
I'd love to hear from you – are you going to try this smoothie? Let me know how it goes! If you found this post useful, do like / tweet / share it forward, love. Gracias.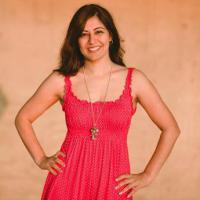 About this site: Hi! I'm Tia. Multi-passionate Sparklepants, Life Lover, Curator of Awesome. I run this website featuring kickass inspiration to help you sparkle through life, no matter what! Go here to ignite your Inner Sparkle — that shimmery part of your spirit that says YES to courage + connection, and NO WAY to 'shoulds' + restrictions. Click here to contribute a post.

Facebook comments:
comments