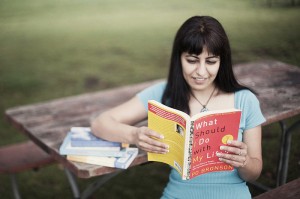 ps: If you're new here, don't worry – this is an April Fools joke! Cos I'm cheeky like that 😉
There comes a time in a woman's life when she has to make a decision.
Actually, there come many such times. We're talking about one specific time though.
What should I do with my life?
And here's my dilemma.
Since I was a little girl my dream has always been to be a wife and mother. Then in my twenties I was proposed to by the 1st of a few to follow. And I said no. He was too young, I was too young. Etc etc.
I realised there was more I wanted to do – travel the world, have adventures.
Marriage and mamahood wasn't for me at 22.
So I travelled the world and had adventures.
I started my coaching business. I blogged. I dreamed of making ripples in the world and a huge impact on people's lives. And I got caught up in the idea.
That I was here to make a difference, a big, positive difference in the world.
I resisted relationships for they tied me down. Commitments (to people, places or leases) scared me.
Over the past few months I have been cocooning and asking myself what's really important to me.
What do I want most in life?
I always thought my # 1 value was love.
Turns out, it was freedom. The same freedom that kept me from committing to marriage or a long term relationship.
Last week, I decided to choose which value I wanted to honor most.
And freedom's had an epic run being # 1 but it's now time for love to take its place.

Freedom isn't far behind, it's very close but what I want more than anything is to be happily married and be a stay at home mom for a while.
So my dear reader, I'm coming out today.
I'm scared and also excited to tell you that I've decided to move to a ranch in Australia to be with a guy I've been seeing for a while.
I'm going to raise cattle and cook for his 3 gorgeous children and have more with him.
There. I said it. And I'm still standing 🙂
Phew!
How does this impact you, you ask?
You see, there was a decision to be made and I thought I had to hide it from the world.
For what kind of a modern business woman would I be to chuck it all up for love and a hot stove?
I was afraid that I would be judged, attacked for taking women's lib 2 steps back (yeah, I got some of that for sure).
But why?
Why should I be scared to be who I really want to be?
If that's what I want, then that's exactly what I should do!

It's my choice, not anyone else's right?

I have to do what makes ME happy no matter how strange or unconventional OR old fashionedly conventional!
If I'm not walking my talk, how can I tell YOU to Live Your Life YOUR Way?
When I do something I love, I do it with all my heart.
There simply isn't any time or mind space to focus on running this business AND being the wife and mother I want to be.
I've seen fellow solopreneurs trying to run a business and manage a family of toddlers and wee ones and they've been getting burned out, stressed and sick to the point of having to take time off.
I don't want that to happen to me, so I'm making a choice to take time out now, rather than be forced to for health reasons.
It's been a great run but all good things must come to an end.
I'm not sure how much longer I'll run this blog, a couple of months perhaps but truth be told my heart has already fled the tracks and I'm following suit.

I may bring it back next year, or in a few months or not at all. I have NO idea what the future holds, apart from the promise of great love and bliss.
Thank you for your delightful presence here and I hope you understand! This decision has not been made lightly, at first I agonised but then it all became so clear that I could see my reflection in it.
I ask you for your support and good wishes as I embark on my next adventure, on this oh-so-scary-and-crazy ride called life!
Tell me – Do I have it? I really need it!
Much love, gratitude and appreciation, Tia xoxo
ps: check the 1st comment for a very special goodbye gift from me!
Facebook comments:
comments