When it means going to school to get a good degree, finding a well paying job that you stick with for the rest of your life, marrying the perfect partner, having 2.5 children, a dog, 2 cats, a pet turtle and a white fenced yard with BBQ's every Sunday..
.. but it's not what you really want. Or at least, not now/that way/just that.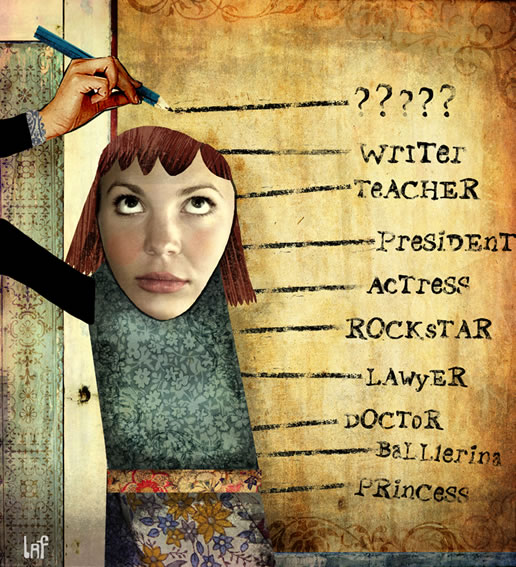 Many people have no idea of who they want to be when they grow up, or have too many ideas and interests that beckon them like sirens and thus have a hard time choosing between the plethora of opportunities available to them.
But that doesn't mean they are unstable/immature/flighty/refusing to 'grow up' according to what the 'world' thinks being all-growed-up is.
Some of you will never fit into the above definition of growing up.
That.is.a.good.thing.
Instead, you'll do it way differently. And you'll be happy, successful, inspired, alive and awesometastical when you figure out how to do that .
You'll make money. Travel the world. Make a difference in people's lives. Love what you do. Get married and have children and maybe even live in a house instead of clouds.
But you'll do it YOUR way.
Unconventionally. Zig zaggily. Trying, starting, and abandoning jobs, passions, countries and careers. Making others last. Whatever you do, you'll follow the call of your heart, being true to yourself, authentic all the way.
Cos baby, you were born that way.
If you're one, I want you to STOP:
Trying to be a Laser aka a Diver.
Squeezing yourself into a square, when you're a Star.
Comparing yourself with your friend who knew beyond a doubt that she wanted to be an athlete or a doctor, while you got to your 20's, 30's, 40's or even 50's, without knowing who you wanted to be when you grew up. (And maybe, still don't).
Wishing you could find the ONE overriding passion in your life that would help you decide what to do with the rest of your days.
And START:
Seeing that you are not alone.
Flying your freak flag high.
Embracing your multitude of passions and interests.
Believing that you are perfect and whole, right here right now.
Realising how interesting, fascinating and adventurous you are!
Finding ways to take all your passions, one at a time or a few together, and create the life you want.
Being a Sparkler is a blessing and it's time you learned that. You are a multi-faceted, multi-talented, multi-potentialed, multi-passionate person with a zillion interests and passions and the world truly is your oyster.
Your only 'problem' is not believing that you are good enough, on the right track or stable enough to be hugely successful, happy and rich by doing the things you want.
For most polymaths (scanners, sparklers, renaissance people), picking and choosing one thing to do is like drinking slow poison. This is your permission slip to start figuring out what you're passionate about, and how to turn your passions into a life and 'career' you'll love.
Life & Career Mapping for Multi-Passionate YOU, if you will.
How? What? Ever heard of a gentleman called Da Vinci?
Leonardo da Vinci. While he gained fame for his paintings, he had talents and successes in many other fields. Italian Renaissance man, polymath, painter, sculptor, architect, musician, scientist, engineer, inventor, mathematician, geologist, botanist, writer (amongst a few more!), Da Vinci was gifted and BORN to do a zillion things.
Just like you.
If he didn't restrict himself to just being a painter and lived such a rich, varied life, what makes you think you can't? People might have told you that the only way was theirs, but as you can see, you truly can own your passions and live life YOUR way.
So the next time someone asks you what you really want to do?
Just smile and tell them you're an ADVENTURER. A renaissance soul. A Sparkler. Doing a thousand things. Whatever catches your interest. Being a maverick. Or simply, I don't- know-yet-but-whatever-it-is, I'm-going-to-enjoy-the-heck-out-of-it-and-then-move-on.
Be proud of who you are.
Embrace your passion path, not the old, boring career path.
I'm curious – have you been telling yourself you can't have the life you want? Let's hear your thoughts!
Facebook comments:
comments