Keep your head high, keep your chin up, and most importantly, keep smiling, because life's a beautiful thing and there's so much to smile about. – Marilyn Monroe.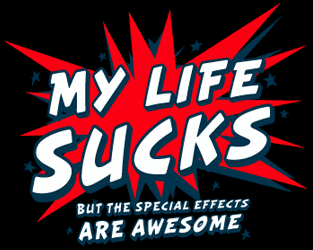 Image source: www.sodahead.com
(Post by Rebecca Tracey, Life-Switch Coach + Adventure Instigator at The Uncaged Life)
I'm going to tell you a little story.
A few weeks ago, my boyfriend and I were driving our Chevy '82 campervan up a dirt road that we thought led to the climbing area we were going to, somewhere in small town Utah.
After 30 mins going up this ridiculously dusty and steep hill, with no cliffline in sight, we realized this was definitely NOT the road to Maple Canyon. 
But being on a super steep dirt road with a sheer drop on one side and a forest on the other, in a pretty crappy old van with a terrible turning radius, we had absolutely nowhere to turn around.
So we kept putt, putt, putting up the hill.  
Until, as our luck would have it, the van stalled.
In the middle of the road.
At 9pm, with the sun going down.
With no cell service.
FRACK!
And the real kicker? Wildfires blazing in every single forest surrounding us.
We were legitimately STUCK.
And for a moment, I legitimately thought we might burn to death if we had to sleep there that night.
Frustrated and tired, we weren't sure what to do next.
Walking back down to service wasn't really an option, as it was pitch dark outside, and would have taken hours to get back down. And who knows what kind of animals like to hang out in this forest.
So what did I do?
I rigged up the emergency flashlight onto the hood of the van, and attached a lantern to the back (just in case anyone came barreling down the hill in the middle of the night), pulled out the scotch, a package of m&m's, and started getting the laptop geared up for a movie night!
Sounds ridiculous, huh? 
The way I looked at it, I had a few options:
I could Freak Out.
Cry.
Get mad at my boyfriend.
Get mad at the van.
Get mad at the world.
Worry all night about all the terrible ways we could die up there on that hill.
Hell. No.
You know how when something really shitty happens, people always say to you "you'll be laughing at this later"?
Sure – you could hang onto hope that one day, this will be funny.
Or…
You can make it funny NOW.
Squeak out a smile. Force yourself to take it as it comes. Revel in awe at the ridiculousness of it all.
Now, this might not work in EVERY situation right away but you CAN make the most out of it. Here's how:
1. Smile. No matter how pissed you are about what's going on, crack a smile anyway.
2. Take a deep breath. Think about that calm, collected person you just SO wish you could be. How would she react? What would she do? If you want to grow and evolve as a person, you've gotta think like the person you want to be, and not get stuck in the old, tired story of who you have been in the past. 
3. Appreciate. What can you appreciate about the situation? By finding something to be grateful for, you change from being the victim and begin to be responsible for your own experience. 
4. Do the best you can do. Knowing that all you have is this moment, right now, what can you do to make the very best of your situation? 
Imagine if you could approach every crappy situation in your life with a light heart and a huge smile after the initial freak out. How would that change your experiences?
By choosing how you want to respond to stress, you actively and intentionally create your life YOUR way. You take 100% responsibility for your happiness, no matter what.
After all, this is your one precious life. Mine for the gold and appreciate every moment of it!
I want to hear from you: what's your default when life throws you a curveball? And what is one thing you can do to take life a little less seriously? Please share in the comments below!
Oh and don't be shy, like, tweet, G+, pin, share this post, thank you!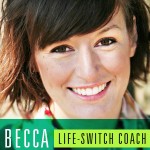 As a Life-Switch Coach + Professional Adventure Instigator, Rebecca helps freedom-seeking fanatics bust out of their self-imposed cages and create lives + careers that cheerfully defy conventional logic.
Ready to take your top-secret, rule-bending, crazy-town dream—and lay out a plan, to bring it to life? Let's tell your excuses to suck it. Together. Check out The Uncaged Life, or stalk her adventures on Facebook and Twitter.
_______________________________________________________________________________________
** Want MORE BLISS and less stress in your life?

Inner Sparkle: The 21 Day eCourse

is made for you. Click here 

to get 

inspired. Happy. Sparkly. **
________________________________________________________________________________________
SPARKLE FLIGHT CLUB: WHERE DREAMS TAKE FLIGHT & FEARS GET GROUNDED. 30 day purpose + passion finding digital experience. Starts October 1st, 2012. 

CLICK FOR

DEETS.
________________________________________________________________________________________
Facebook comments:
comments