The beauty of a woman is not in a facial mode, but the true beauty in a woman is reflected in her soul. It is the caring that she lovingly gives, the passion that she shows. The beauty of a woman grows with the passing years. – Audrey Hepburn
 (Post by Love & Relationships Sass-pert Natalie Vartanian of www.nataliethecoach.com)
Hi! I'm Natalie, a Life Coach who is passionate about people being loved and knowing how amazing they are, AS THEY ARE!
And yet, here is my confession.
I have never had a good perception of my looks.
Whether it was my body or my overall physical appearance, my thoughts about how I looked were always skewed.
It wasn't that I never received feedback saying I was pretty or beautiful when I was little. I did, quite often.. from adults.
It wa

s the criticisms from other kids saying I was FAT, or being ignored by boys growing up, that stuck with me … for a long, long time

.
This beautiful swan would look in the mirror and all she would see was an ugly duckling. And guess what that did? It totally impacted the way I acted. 
I became a wallflower, a loner, gained weight over time and decided no one would ever like me. It was a domino effect. A painful one. It ate away at my self esteem and kept me feeling isolated and lonely.
I struggled with my weight and my esteem for YEARS. The classic yo-yo effect. I would decide to lose weight, which led to eating healthy, exercising, slimming down and getting frisky with the guys. However I was never able to sustain my weight or my interactions with these guys. And there came the pounds again.
I didn't have my first relationship until I was 21 and that only lasted 6 months. I didn't have my first boyfriend until I was 26. We dated for two and a half years (a freaking miracle!) and he subsequently became my fiancee and then my ex-fiancee.
Why am I telling you all this?
Besides the fact that I am an open book and have come to really LIKE talking about myself ("what self esteem problem?"), I share to give you insight as to how your perception of self profoundly affects your reality.
For me, it was in the aftermath of my breakup with my fiancee that I truly saw how I had "played small" and not owned up to the amazing, beautiful, powerful woman that I am. Enough was enough.
I spread my wings and moved, started to take exquisite care of myself and practiced seeing in me what everyone else saw that I was unable or unwilling to.
The difference now?
I not only AM a beautiful, 'hot' girl but KNOW I am that.
And oh man, does my ballsiness show for it too! If I see a good looking guy that I feel attracted to, I will march right over and give them my number. Okay, okay, sometimes it takes hovering around for a while and trying to talk myself out of it, before I do. But I eventually gave them my number when I stopped acting like a nervous 13 year old girl! 
Everything has  beauty, but not everyone sees it. – Confucius
Another reason I am telling you all this?
I want you to embrace your inner hottie!
When you start to see yourself as that beautiful swan, you will begin to actually embody it. Confidence and esteem go a LONG way, especially in attracting the kind of love you deserve.
Trust me.
If I tell you a secret, promise not to laugh? 
For a while I would imagine myself as a peacock whenever I was getting ready to go out.
It totally affected the clothes I chose to wear or the way I did my makeup. Then when I eventually would walk into the bar or the party, I pictured myself fanning my gorgeous tail and having all eyes gravitate towards me. What can I say?  It worked! 
Now your
turn.
How do I really see myself? And answer HONESTLY, because really, who are you trying to kid by answering otherwise … hmmmm?
How is this impacting the way I show up with others, be it friends, family, significant others, potential romantic partners (you get the drift)? 
How do I WANT to see myself? Hint: Pick something that makes you feel like a million bucks or the hottest thing that ever walked the earth. Not the peacock, it's already taken. Ha, kidding!
What is one thing I can do tomorrow to live in to this new way of perceiving myself? More hints because I love you: Going through your wardrobe and getting rid of anything that doesn't make you feel hot, getting a haircut, asking the person you have been-not-so-secretly-stalking out for coffee.
So I'd love to know: What a-ha moments did you have reading this post? How DO you want to see yourself? What one thing will you do tomorrow? Sharing is caring so let me know in the comments below. Got questions, ask away!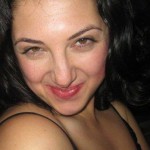 Natalie Vartanian, CPCC, is a Certified Life Coach / Strategy Consultant. 
She's a Spanish-speaking, golf-playing, tarot reading, live-on-the-skinny branches kind of girl who loves animals, indie music, cooking, running and being a nomad.
Find her at www.nataliethecoach.com and @nataliethecoach on twitter.
________________________________________________________________________________________
** Want MORE BLISS and less stress in your life? Inner Sparkle: The 21 Day eCourse is made for you. Click here to get inspired. Happy. Sparkly. **
________________________________________________________________________________________
SPARKLE FLIGHT CLUB: WHERE DREAMS TAKE FLIGHT & FEARS GET GROUNDED. 30 day purpose + passion finding digital experience. Starts October 1st, 2012. 

CLICK FOR

DEETS.
________________________________________________________________________________________
Facebook comments:
comments