Education is what survives when what has been learned has been forgotten. – B.F. Skinner.
(This is an open letter to my cousin and ALL of you recent + to-be 12th graders. Don't let numbers define you. Create your own destiny. And don't ever let anyone tell you you're not good enough. You are more than they know, more than you believe. Also featured in Huffington Post India.) 
Hi Sweetheart!
May 25th was the day you had been waiting for, the day when you would find out what "your future holds".
Along with 10,40,367 teenagers who appeared for the all important CBSE 12th Standard Board Exams all across India, you wondered if you would get into the college and course of your dreams, or be forced to choose from the "next, less appealing options".
94%.
2nd highest in the Arts stream at your school.
I was stoked for you but when we spoke on the phone, the first thing I heard was the sound of you crying.
"What congrats, Di… 94% overall isn't enough, I needed at least 95% to get into LSR for Psychology Hons. I don't know what to do now".
You are sad, worried.
I'm ticked off.
Not with you, with our education system.
With our society that places such emphasis on grades and credentials, that 94% feels not good enough. That a friend's friend ended her life a few years ago when she got a "mere 85%" instead of the 90% she needed to get into a good college. Thinking her life had no meaning and not being able to see a bright future regardless of the college she attended.  
Every year there are some youngsters in India who commit suicide after getting their Class 12 results because they feel like they let themselves or their parents down and just can't see any other option.
(If you're one of those feeling depressed, whether you scored 50% or 90%, please click this link now. It's my own story of epic failure + how I got past it. Then go talk to your parents, a counsellor, or someone you trust about how you're feeling – believe me, your family would rather have you alive than dead and a few years from now your marks will be the last thing on your mind. If there's no one to talk to, feel free to reach out to me at tia@coachtia.com so I can help you find resources).
You young ones have a lot more pressure today than we did growing up 2 decades ago.
For our parents, being a Graduate and getting 50% was a big thing. In my day, one was nothing without 75% and a Post Grad. And today, you're facing 97% cutoffs with lakhs of students jostling for 54,000 seats in Delhi University.
Listen.
You are more than a set of double digits.
Whether you get the college and course of your dreams or not, is the least dominant factor in your eventual success and happiness.
And that's what life is about isn't it? Being happy and fulfilled?
While I do believe one must get a college education, it's not for the reasons you might think.
It's not for the job or career or status or money you might earn later. No, those things depend not on your 12th results as much as on YOU.
Not numbers on a website.
Not a numeric grading system.
Not a piece of paper you get handed after 3 years.
But your resilience. Your enthusiasm. Your ability to face obstacles and keep going anyway. Your creativity. Your joy for life. Your hunger for knowledge and making a difference. Your dreams and goals (which will keep changing). Your determination. Your adaptability.
Your ATTITUDE.
Yes, a good education can help you get a head start. A leg up in a very competitive world. 
But what happens after is entirely unto you. 
I know successful people with broken families, unsuccessful (by society's definition) yet happy people, people who failed in school/college and started their own business, people who got a mediocre education and travelled the world to have life enriching experiences, people who went to great colleges and got laid off from their jobs, people who are rich & happy + many who aren't in spite of their pedigreed background, people who went to less prestigious colleges and became industry leaders, and so on.
It all equalises down the road, nothing in life or work is ever guaranteed! MANY things will be uncertain and out of your control. But the one thing that always will be, is how you RESPOND to these events. 
One day you'll look back and realise that the real education you got wasn't what you learned in a classroom but out of it.
It's what you learned on the steps of your college, it's what you learned by facing setbacks, challenges, taking risks, travelling, being there for your best friend, staring bullies in the face, crashing and getting up over and over again.
It's what you learned by falling for the wrong guy, getting your heart broken, breaking someone's heart, allowing heartbreak to make you stronger, getting your first job, paying your bills for the first time, quitting your first job, moving across the world in search of adventure and making it work.
When you understand that confidence is sexier than any amount of make up and that enthusiasm is as important as expertise, when you stand for something you believe in (which will be the scariest but most empowering thing you can do), stare your fears in the face, look in the mirror and love who you see instead of wanting to change this or that about your body, then you know you've learned how to really live.
It what you learned when you were betrayed by someone you trusted, when you let the pain rip you apart, knew when you were wrong and admitted it, didn't let shame or guilt run your life for one more hot second, were proud of yourself for the first time, made decisions when no one supported you but the call of your own soul, trusted yourself and truly believed that you are capable of being whoever you want to be. 
Your fate doesn't depend on your CBSE Class 12 marks or what college you get into – it's an evolving lifelong thing that YOU get to create page by page, chapter by chapter, in the book of your life.
You are and always will be much more than a degree, a course, a job.
You are a a human being with inspiring qualities and infinite potential – at age 18 or 80. WOW!!
Recognise your power and resourcefulness. Be so strong from the inside that you can face any situation in life and make it sparkle. 
There will be laughter and tears, endings and beginnings, births and deaths, adventures and misadventures, regret and acceptance, the world will fall apart many times and come together again.
NONE of this will be dependent on your marks or what/where you studied.
You know what's more significant?
Love – family, spouse, children, all in good time.
Health – it's a miracle given to you, do your best to maintain it.
Friendship – surround yourself with true friends who will be there for you. BE a good friend. Communicate. Look for the best in others. 
Knowledge – read books and blogs, observe people, get to know yourself inside out, strive to be kind and brave.
Application – apply what you learn to make life 1% better for yourself and others every day. It all adds up.
Travel – the biggest education in life you'll ever get.
Look past your limits and determine your own version of success, society be damned. BE UNSTOPPABLE.
There is no other road to happiness than knowing it's a CHOICE.
The happiest people are those who practice gratitude for what they have, are courageously true to themselves, don't let stress run their lives, have goals but aren't overly attached to them, savour little things in life, nurture strong relationships with others, express themselves authentically, don't victimise or compare themselves with others, embrace change, move on from the past, live intentionally in the present, and above all, never let others opinions decide who they are.
Be a lifelong practitioner of these qualities, take care of yourself, and life will take care of itself. 
It won't always give you exactly what you want but it WILL give you way more than you can imagine if you embrace your experiences and use them to learn and grow.
Very little in life is worth losing your sense of self and peace of mind.  
Absolutely NOTHING is worth letting your self-worth be determined by external forces.
You are wonderful. You are bright. You are courageous. 
YOU.ARE.AMAZING.
As. you. are.
Stronger than you know.
More beautiful than you think.
Worthier than you believe.
More loved than you can ever imagine.
Passionate about making a difference.
Fiery when protecting those you love.
Learning. Growing. Not alone.
Warm. Giving. Generous.
Quirky. Sexy. Funny. Smart.
Flawed. Whole. Scared. Brave.
And so, so, so.much.more.
Be Strong. Be Confident. Be You.
"Copyright: Tia Sparkles Singh, 2011
Your Life YOUR Way – www.yourlifeyourway.net"
You have people who love you to the moon and back. You have a world of opportunities just waiting for you to discover and create them. 
There are many ways to get to where you want to be, if you'll keep your dreams alive and the doors to life open.
The rest of your life is just beginning.
And I am SO excited for you.
~~~
As Mary Gimley, a very wise Massachusetts teacher once wrote:
"Dear Students,
You have received your scores. Perhaps they were very good. Perhaps they were not.
Please remember strangers gave you these scores. And remember that there are many ways of being smart.
These strangers do not know that you can play the violin or dance or paint a picture. They do not know that you take care of your little brother after school, that your friends can count on you, that your laughter can brighten the dreariest days.
They do not know that you write poetry, wonder about black holes, and know exactly how much change you should get when you go to the market.
They do not know that you built a shed with your mom and dad, grew vegetables in a garden last summer. They never saw the social studies project you did last year.
They do not know you are trustworthy, that you are kind, that you are thoughtful, that you care about what happens to old people.
They do not know you at all. But we who know you — your moms and dads, your grandparents and teachers, your neighbors and friends — love you and are proud of all you are.
The MCAS will tell you something but they will not tell you everything. How could they? The scorers don't know you.
And there are many ways of being smart." 
What advice would you give to a teenager graduating from high school? What do you wish someone had told YOU? They're reading this.. so let them know below.
ps: Please share this post if it resonates – you never know who you could be helping. Thanks!
(main pic credit: https://www.flickr.com/photos/werwin15)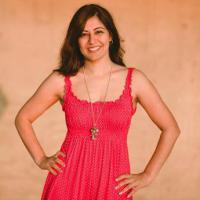 About this site: Hi! I'm Tia. Multi-passionate Sparklepants, Life Lover, Curator of Awesome. I run this website featuring kickass inspiration to help you sparkle through life, no matter what! Go here to ignite your Inner Sparkle — that shimmery part of your spirit that says YES to courage + connection, and NO WAY to 'shoulds' + restrictions. 
Facebook comments:
comments