Winners make decisions fast and change them slowly.
Losers make decisions slowly and change them fast.
First off, I don't believe in the concept of "winners" & "losers". Sports, yeah. Anything else? No.
(Maybe Charlie Sheen got that right? We're all WINNING at the game of life.)
Ahem. But this quote did make me stop and think about how I make decisions. Here's the dirt.
I make big decisons in a few blinks of the eye(s).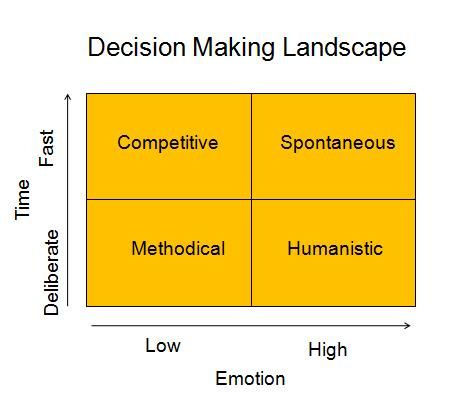 Stay on in the US in '00 cos I randomly got offered a job by the friend of a friend of a friend of a friend of a friend's brother even though I only went for a 2 week vacation honest to God & quitting my brand new 2 month old job in India to change to a US work permit (1000% legal) not realising how paranoid US immigration would get about my intentions, thus barring me from crossing the hallowed halls of the US-Canada corridor for years to come once I left on my own accord after 2 years when my work permit was valid for a few more years? Um .. Yes.
(ps: For those of you who keep asking why I don't visit you or come to BlogWorld or SXSW or your delightful retreat/event/christening/workshop/anything else, believe me, I wanna and would you please like to petition US immig on my behalf ;)? pps: I wrote this post for you!)
I make small, insignificant decisions drag on till I'm ready to collapse in an apocalyptic fit.
Chicken salad or quesadillas for lunch? Someone, please just shoot me now. I remember living in this house in Calcutta where everything was taken care of. Bills, cleaning, repairs, you name it. The only thing I had to do was go to work, play and tell the cook what to make for dinner/lunch etc.
I hated it. It did my head in to decide. So we came to an agreement – the cook made what she wanted and I ate it.
All my life I was taught to make decisions based on pros and cons and what would make the most sense.
The ones I made based on this accounted for many a restricted bird-in-a-cage forlornly and sometimes viciously beating-of-the-head-against-an-imaginary-wall-time in my life (and a real wall just that one time…)
The undergrad course I chose. The college. The job. The jobs.
I was doing the smart thing. The right thing. Then why did I feel so miserable?
In the midst of all the sensible decisions, something strange would happen. Often I'd do something totally mad just cos I wanted to – like quit my job and move to another city, take a year off and go travelling, change careers..
One day, my BFF said to me "You always choose what's the most fun thing to do".
I was m.o.r.t.i.f.i.e.d.
That was NOT what I had been taught, I was way more responsible than that!
She even said "It's not a bad thing, Tia" but in my mind I had been judged, crucified, seen wanting. That was so NOT how sensible, reponsible and mature people made choices.
Less than a decade later her words came back to me. This was around the time I stumbled across Steve Pavlina and for the first time I realised that other people were as crazy as me.
In his post about making smart decisions in less than 60 seconds, he says that he would walk around looking at stuff he wanted to buy or things he wanted do asking "Is this really me?"

Then I read this other post about making smart decisions and I could see again. All the BIG life changing decisions I've made (and continue to make) are all factored around one idea. 

Imagine this – instead of pro'in and con'in your way into a decision, you let your body and heart decide. Ask yourself the question I've asked myself often:
What do I most want to experience now?
When I read that someone else was making decisons based on how they felt and what they wanted to experience (albeit more consciously than me), I smiled. Ok at first, I sighed with relief.
For no matter how hard I'd tried to fit in, I wasn't fooling anyone. I'd fooled myself for a while, but to the rest of the world I was wearing the Emperor's Cuhuhuhuhlothes.
(It took all this time to see, accept and eventually, LOVE that about me!)
Now, I'm proud to declare that some of the biggest and best decisions I've made have been made not lightly, but very intuitively or simply on the basis of what I wanted to do next. Consequences be damned.
They've been leaps of faith, made no sense and seemed totally random at the time.
The time my friend in Atlanta asked me to move to New Zealand with her cos she really wanted to go but was scared to go alone and I said, ok sure (I stayed 4 years, she lasted 6 months)?
Besides, how would I have met her and gone to NZ if I hadn't first followed my gut and stayed on in the US to start with way back then?
When I decided in 2008 that I was done working for someone else with a measly 2 weeks of vacation a year and haven't looked back since?
When I quit the corporate world and become a massage therapist in 2003, prompting my folks to ask 'but what about your MBA' and then asking for massages once they realised the benefits of a trained MT at home?
When I decided to go to Argentina last year and gave up my apartment in Vancouver, culled and packed my life in 8 boxes and landed up in Calgary instead in the thick of a -36 winter?
Worth it. Every single minute. The good, the bad, the ugly.
The experiences, the awesomeness, the agonies, the dramas, the growing up, the independence, the love, the laughter, the adventures, life. All worth it.
I wouldn't change any of the big, crazy, seemingly 'immature or reckless' decisions I've made, because each time, I was marching to the tune of a drummer I (and that super smart coach chick, Martha Beck,) call my essential self.
I'd been following my North Star. Steering by Starlight.
Living according to my values, pushing past the hidden causes of resistance.
Even though I didn't know it at the time. Thank heavens for that inner voice huh.
Something tells me that you, reading this, you get it.
You've made, or wanted to make big, life changing decisions in an instant and agonised over the futility of the small ones. Maybe you're doing something really brave right now!
I'm going to ask you to make a decision this week that feels right to you, whether it makes sense or not. Start playing with your intuition, connect with your essential self and make a decision based on what you want to experience next. A whole new world of possibilities awaits, I promise you.
So over to you sweets! Have you ever made a decision based on what you want to experience instead of what was the most logical action? What's the craziest decision you've made? How do you usually make decisions? Can't wait to hear from you! Tx for sharing!
Facebook comments:
comments