You've probably read this book. It applies to daily life, yes, and even as importantly, the Four Agreements can transform the way you run your business. Think of them as a Guide to Life & Solopreneurship, angels on your shoulder whispering words of wisdom, helping you chart your course.
Four dead simple, challenging commitments.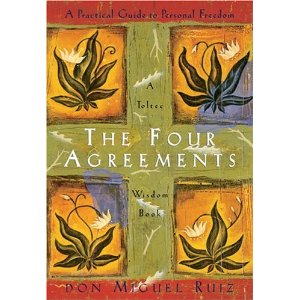 Agreement 1: Be impeccable with your word
Speak with integrity. Say only what you mean. Avoid using the word to speak against yourself or to gossip about others. Use the power of your word in the direction of truth and love.
As a solopreneur, you have a responsibility to speak your truth. As a coach or creative, you have your own uniqueness that MUST shine through. If you aren't being authentic and in integrity with your values, how in heck will you help the very people you're here to empower?
Consistency is a part of integrity – however, you get to define what that means to you. And then stick to it. Respond to emails once a day or once a week? Write daily or weekly? It doesn't matter what you do, it's how you do it. It doesn't mean doing it the same way every time either.
Simply put, it's doing what you said you'd do, when you said you'd do it.
Some ways to be in integrity in biz:
Be You and fly your freak flag high
Say No to energy vampires
Amp it UP, ie, let your voice thunder!
Be passionately in love with your work
Share information, appreciation and resources
Start doing the thing you say, or don't say it till you do
Be your own champion – speak words that affirm you daily
This one above, is your # 1 key to success and happiness
Don't make promises you might break*
And don't apologise every time you do*
* Eg: You boldly state you'll write a post every Mon, Wed, Fri, send a newsletter twice a month. One day you aren't inspired to post. Life gets in the way and you miss a newsletter. Next thing you know, it's been 3 months and you're back apologising profusely. Don't, just don't do that. Either make it a priority and have systems in place with 1-3 months of material ready to go, or just pick up and keep moving. Enough of the apologising.
Agreement 2: Don't take anything personally
Nothing others do is because of you. What others say and do is a projection of their own reality, their own dream. When you are immune to the opinions and actions of others, you won't be the victim of needless suffering.
Someone unsubscribes from your email list. Blog comments slow down. The phone isn't ringing off the hook with clients. Your spouse and friends are wondering when you'll give up the idea of solopreneurship, do the sensible thing and get a job.
It's not you. It's them.
It doesn't mean you're not worthy, brilliant, a good writer, a great coach, a talented designer. All it means is, what they want and what you offer aren't a match right now. There are tons of other people who DO want what you've got and when you're in integrity with who you are, they'll be drawn to you.
Whether in life or business, nothing is permanent. People come, people go. Numbers change. Commitments waver. The only thing you CAN be sure of, is that you'll learn, grow, experiment and be more than okay.
How not to take anything personally:
Don't take it personally
Remember: It's not you, it's them
Unless you're breaking Agreement # 1
In which case it's you and you gotta hitch up your pants
Agreement 3: Don't make assumptions
Find the courage to ask questions and to express what you really want. Communicate with others as clearly as you can to avoid sadness, misunderstandings and drama. With just this one agreement, you can completely transform your life.
"I can't do this / I'm not good enough / I need more experience before I can __, __, __ / I've never done this before so what if I fail / I need more money / I don't have time / If I launch a course no one will sign up / If I launch a course it will sell out / Why would they want to collaborate with me, I'm just a newbie / Of course they'll want to be in on my thing, I'm fabulous / If I ask I'll just get a No / What if everyone said Yes"
What's the common factor in these statements? They're all made up. Everything is made up. YOU make it up. You can make up whatever you want and bring it to life.
The only way to find out?
Get curious about your assumptions
Ask questions and listen to the answers
Say what you want to say, Ask for what you need, Do what you're afraid to do.
Agreement 4: Always do your best
Your best is going to change from moment to moment; it will be different when you are healthy as opposed to sick. Under any circumstance, simply do your best, and you will avoid self-judgment, self-abuse and regret.
This one might seem kinda redundant. After all, aren't you always doing the best you can from where you are with all you've got (to paraphrase Mike Dooley)?
Often, you think you are but really, you're waffling, procrastinating, wrestling with saboteurs and falling into the comparison trap that keeps you from doing something phenomenal with your business or seeing that you already ARE.
Aren't you sick to the GILLS with reading about "stop the comparisons" and even more, with how you can't seem to stop comparing!? Be patient, my friend. You're undoing a LIFETIME of training to beat the Joneses.
Listen, the day you get that it DOESN'T MATTER what your competitors do, it only matters what YOU do, that others doing their stuff and being successful doesn't make YOU less successful, that's when you'll truly be living your life your way. And in that, be richer, happier and make a far greater impact than you could ever have imagined.

What if you take this one to heart – print it out and put it on your office wall, use it as a screensaver. Remind yourself of it every time you break one of the first 3 agreements. Cos love, it's gonna happen.
And when it does, agreement # 4 will nourish, soothe and encourage you back into being the sparkling, wonder filled and life affirming awesome person you were born to be.
I'd love to hear from you – how have these agreements impacted your life and business? Which ones resonate the most with you? What one thing can you implement today to bring the agreements into your business?? Thanks for sharing!
Facebook comments:
comments