L
oving people live in a loving world.

                                   Hostile people live in a hostile world.

                                   Same world. – Dr Wayne Dyer.
Tweetable Quote: Change your Perspective to Change your Life.
(Post by Kimberly Riggins of Kimberly Riggins International. Want to write for YLYW? Get the deets).
Over the last few years, I have learned a very valuable lesson:
How you do one thing is how you do everything. 
And for a long time, I really took that to heart. I intentionally showed up in the world as the woman I wanted to be and honestly knew I could be.
And then all hell broke loose and my life felt like it was turned upside down.
My marriage shifted.

My finances plummeted.

And the beautiful house I called home ended up in foreclosure.
Initially, I threw the biggest, most badass pity party I could possibly muster.
And oh did I cry. Then I screamed and if I am completely honest, I broke a few things along the way, hoping that watching glass shatter would somehow make me feel better.
It did, at first, until I realized that I had to clean up the mess. Sh*t, that sucked!
The next thing I did was retreat. If it weren't for my son, I probably would have stayed in bed for weeks. Instead, I got quiet, hid behind my computer and never answered the phone. But truthfully, I got bored. And extremely antsy so I did the only thing I knew would pull me out of my funk.
I started a business!
Yes, that's right. I started a business—from scratch.
I know it's crazy but instead of sulking and dwelling on things I couldn't possibly fix overnight, I put my creative juices to work.
And a year later, I published my first book.
Talk about keeping myself busy!
I woke up every morning and was psyched and raring to go. I wanted to rise to the top of my field; help thousands of women overcome their insecurities, to help them rise from the ashes.
But there was one problem — yes, I was showing up in my business like I could do anything. I was fearless, determined, hopeful and, above all else, positive.
But in my personal life, I was cranky, moody, angry, resentful, hurt and tired of all the bullshit.
So I hired a business coach and literally spent $1000's I didn't have, thinking that was the ANSWER.
Now don't get me wrong, the lessons I learned were priceless. My business is so much clearer than it was. I am facing all of my fears (that at first I didn't even know I had) and I am ready to take on anything. Because I know what I have to offer has value and I can do great things with my gifts.
And it would be a tragedy to keep them all to myself.
But that wasn't the SOLUTION.
In addition to getting more business pointers, tips, and suggestions I should have been looking internally and examining how I was showing up in the rest of my life and working on that piece too, if not more.
Because the reality is they are connected.
How in the world can I truly build a successful, profitable business if I am being a total b*tch and a sourpuss (as my current business coach would say) at home?
I had to shift from living in Negative-Ville to partying on Positive Lane! But HOW?
Here are the 5 things I did to start the shift (that you can do too!).
MAKE THE CONSCIOUS DECISION TO SHIFT YOUR BEHAVIOUR.  
I decided to no longer stand for my negative behavior, thoughts, and beliefs.
I truly believe we are solely responsible on how we act. We have a choice in how we use our energy. You can either let it suck you dry or allow it to feed you from head to toe. What will you choose?
SET YOUR INTENTION EACH MORNING. 
I start each day with intention.
Visualize how you will show up in the world. Picture your demeanor, your responses, and your energy. And then follow your intentions through. 
USE A TRIGGER TOOL. 
For me, this is my hairband. I always have a hairband on my wrist so it's a no brainer. Whatever you use, you want it to remind you of your intention and bring you back to the present moment. When I find myself talking negatively, I snap my hairband on my wrist and it literally snaps me back to my intention. Yes, it stings a bit but it works for me.
Find something that works for you.
ENLIST YOUR FRIENDS' HELP.  
I reached out to friends.
Ask a few good friends to point it out to you when you are being overly negative. This is a great way to see how often you are acting like a brat. People always say awareness is key — and in this instance, I wholeheartedly agree!
IF ALL ELSE FAILS, SMILE, SAY NOTHING, AND MOVE ON.
You are going to have those days. Days where you think your life sucks. It's inevitable. Sometimes all you can do is put your best foot forward, smile, shake it off and move on.
How are you showing up in the world? Is it how you intended? If not, what step can you take today to shift that behavior?
I want to hear from you. Leave a comment below and let me know how you showed up in the world today. And if you liked this post, don't be shy – like, tweet, stumble, pin, share the love! Thanks!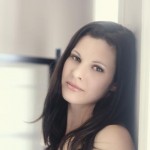 Kimberly Riggins is a body image & self-love expert. She is the author of the inspirational book, Love Your Naked Ass, the creator of the upcoming program, The Ravishing Renegade, a 30-day program where women learn to discover self-love, and the chief initiator of the philanthropy mission called "The Watch Her Thrive Project".
To learn more about Kimberly or to take her Love your Naked Ass Dare, visit http://kimberlyriggins.com.
 _______________________________________________________________________________________
** Want MORE BLISS and less stress in your life?

Inner Sparkle: The 21 Day eCourse

is made for you. Click here 

to get 

inspired. Happy. Sparkly. **
________________________________________________________________________________________
SPARKLE FLIGHT CLUB: WHERE DREAMS TAKE FLIGHT & FEARS GET GROUNDED. 30 day purpose + passion finding digital experience. Starts October 1st, 2012. 

CLICK FOR

DEETS.
________________________________________________________________________________________
Facebook comments:
comments