When you die and go to heaven our maker is not going to ask, 'why didn't you discover the cure for such and such? Why didn't you become the Messiah? The only question we'll be asked in that precious moment is 'why didn't you become you? – 

Elie Wiesel.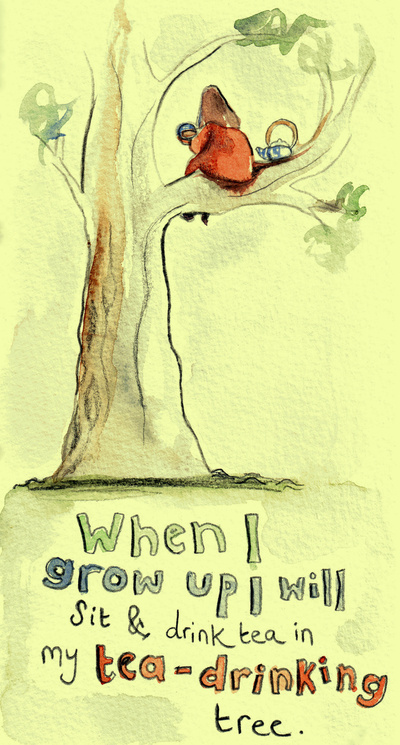 (This is a post and artwork by multi-passionate Jo Bradshaw of Minestrone Soul).
What do you want to be when you grow up? 
An innocent little question, isn't it.
But it's one that doesn't sit well with me. 
I see my seven-year-old already battling with all the future incarnations of herself. 'Perhaps I'll be a ballet dancer. But I might want to be a florist. Or a doctor. Actually: I really want to be an acrobat. Oh, and an artist.'
My daughter has a wonderful book called You Choose by Nick Sharratt and Pippa Goodhart. It says 'if you could do anything, what would you do?' On the careers page, there are cartoons of 50 different occupations. There are gloriously zany castles, fantasy beds, frivolous feasts and wacky ways to travel.
We leaf through the pages together.
She chooses to be an artist on mondays, a florist on tuesdays, and a doctor on wednesdays…… and I concur and make my own choices.
Perhaps I'll be an artist on mondays too so we can hang out together, but then I think I'll be a cook on tuesdays and a scientist on wednesdays.
And yet, well-meaning adults ask her 'what do you want to be?' as if somehow, just being herself wasn't already good enough.
I know how acutely she juggles all the possibilities that others have shown her, as if on a smorgasbord where you can see everything but you only get to choose one course. I understand. When I was seven, I wanted to be an artist-writer-actress-potter-scientist-gymnast-sweetshopowner.
I saw no reason why I shouldn't be all of those things because that belief – that I didn't have to choose – hadn't yet been peeled away from me. I've spent my whole life fighting the push to choose.  
What if.
What if you didn't have to choose, my love.
What if you could be anything you wanted to be, and well-meaning friends and teachers stopped forcing you into boxes before you even brushed the edges of responsibility. 
What if the careers teacher stuck everything she's learned about sorting and labelling and processing and influencing youngsters – stuck it all up her whatsit. And went out and breathed in an excited kind of air. One tingling and alive with possibility. One in which you are dancing. Laughing.
You are amazing. 
You are you. You already are. You don't need to be anything but you.
I'll tell you what I think. I think we are all born pretty darn pure and glowing and brimming with possibilities. I think that our schooling and society seeks to chip the edges off until we are safe enough to fit in, and be a good and trustworthy cog in the great big machine that is modern business.
But from where I'm standing, that model is starting to look seriously geriatric. Like a blip on the vast landscape of human enlightenment. 
If you're a multi passionate multi-skilled renaissance soul – what Tia affectionately calls a Sparkler, and what I call a minestrone soul (see: we don't even have to choose a single term to unite us!) –  then step up. Now is your time. 
Choose to be you.
Choose to shine and to glow all your different colours. Can you forge your own path using all your talents?
Absolutely.
You may need support, inspiration and sometimes even a kind of internal permission to do so, but hell yeah.
You CAN.
And the burning question? Think back to when you were seven years old. What did you want to be when you grew up, before you became who you are today? Let us know in the comments below, won't you. Thanks in advance for sharing this post!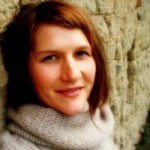 Jo Bradshaw is a multipassionate minestrone soul whose mission is to help others get out of the gloop of overwhelm and scatter and make their gifts really shine.
Jo is a brand designer, dot-joiner, copywriter and illustrator who also loves eco building, cooking and gardening. Find out more at www.minestronesoul.com or follow Jo on twitter: @minestronesoul.
_______________________________________________________________________________________
Wanna figure out what to do with your life and be more YOU? Check out SPARKLE FLIGHT CLUB.
30 day purpose + passion + inner self + gratitude journey in an online community experience. 

Starts October 1st.

 

CLICK FOR DEETS + TO SIGN UP.
_______________________________________________________________________________________
Facebook comments:
comments