Every woman's life is the sum of all her choices, and Revlon India is here to support that. Choices by Revlon is a platform that will allow every woman to express her opinions and make her choices freely. This month, Revlon talks about Empowerment. This is one of the many articles that aim to inspire women all over India in their choices about Empowerment. Start making a choice today. Log on to the Choices By Revlon App here.
Hey Gorgeous!
I'm stoked to be writing about women's empowerment as a part of Revlon India + Vogue's Empowerment month theme, all the way from Madrid, Spain.
First off, what is empowerment?
The dictionary defines empowerment as "the process of enhancing the capacity of individuals or groups to make choices and to transform those choices into desired actions and outcomes."
I see it as FREEDOM of CHOICE.
The freedom to choose who/what/where/how you want to be.
The freedom to live the life you want, not the life others want you to live.
The freedom to just… BE.
If the ability to decide or choose what you want is taken away from you, you have been disempowered.
And no one, absolutely NO one has the license to tell you how to live your life or use your body, except you.
This is your fundamental RIGHT.
It's something you must know with every fibre of your being.
So are are you born empowered or become that way?
I believe it's a process. You are born with many rights and freedoms, AND you need to recognise, cultivate, acknowledge, BELIEVE, and own your choices as you grow and learn more about yourself.
Here then, are some qualities and habits that an empowered woman embraces (inspired by and dedicated to all the amazing women I know!).
An empowered woman is one who:
Is intentional about the choices she makes

Asks clearly and confidently for what she wants

Says NO when she means no, instead of yes or maybe

Has goals, ambitions, dreams.. that she writes down and acts on

Loves herself as she is AND aspires to be the best she can

Has oodles of self respect and doesn't take sh*t from anyone

Cultivates a sisterhood of fribblings (friends+siblings) who will always be there for her

Is kind and compassionate, yet kicks ass when needed

Takes complete responsibility for her own life and

happiness

Sees her vulnerability as her strength

Talks about the difficult things because no one else does

Treats failure as a stepping stone to success

Challenges the status quo and isn't satisfied with living a half baked life

Lives a life of

meaning and purpose

, knows she has a mission in the world

Knows when and what to fight for, and when to walk away

Masters her finances instead of waiting for a prince to rescue her

Lives in the present, not the past or future

Is open, listens to others but lives by her own code

Nurtures and takes care of her body, mind, and soul and brims with vitality and life force energy

Channels ego, insecurities, anger, and fear in constructive ways

Isn't necessarily fearless, but feels the fear and does it anyway

Has an attitude of gratitude and believes anything is possible

Takes a stand for what she believes in and doesn't compromise on her values

Spreads happiness + positivity where she is, doesn't bumplain (tx Erika!)
Is a role model –

inspires

and helps other women instead of bitching and playing politics

Doesn't hang around in abusive relationships – she gets the help she needs and gets the hell out

Lives on the edge of her comfort zone and takes risks

Never apologises for being who she is, for being "too much" or "too ___ anything__"

Is as heart smart as she is head smart

Knows that shame and guilt are wasted emotions and doesn't let others guilt her either

Sparkles

from the inside out and has a glow that people are drawn towards

Can go through the hardest of times, and emerge stronger than before

Trusts the journey and herself even when she doesn't understand why things happen at times

Doesn't base her self esteem on looks or clothes, knows it comes from within

Has a strong sense of integrity

Doesn't compare her inside with someone else's outside

Acknowledges her mistakes and makes amends with grace

Might quit temporarily, but will never give up on what matters to her

Practices radical forgiveness 

Keeps an

open heart and loves fully

, no matter what she's been through
Empowerment isn't simply a list of things to DO, it's a way of BEING + SHOWING UP in the world. (

click here to tweet!

)
What would you add? Let me know below. Please share this post with other empowered women, tx!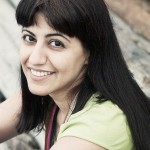 Hi! I'm Tia. Multi-passionate Sparklepants, Life Lover, Curator of Awesome. I run this website featuring kickass inspiration to help you sparkle through life, no matter what! Click here to ignite your Inner Sparkle — that shimmery part of your spirit that says YES to courage + connection, and NO WAY to 'shoulds' + restrictions.
Facebook comments:
comments