On December 30th, 2014, I sent out my Tuesday Sparkle Bomb email as usual.
This being the last one of the year, I thought about whether I wanted to do a year end review.
The answer was No. Even though it was a huge year for me.
(I got a scholarship + did a Leadership course in Spain + got married).
I tried to choose a word/theme of the year (they work really well + I stopped doing resolutions years ago) but nothing came.
So I emailed thousands of people on the Sparkle Bomb list and said that I wasn't going to do any such year end stuff.
I would simply be grateful for 2014 and welcome in 2015.
And now I'm taking that back. Sorta.
It all started a few hours ago. 
11 ish am, Jan 1st, 2015.
My husband and I were cuddling in bed and I asked him what he wanted this year.
To be happy, understand each other better, a lot of love, me by his side, and not fight over the past or stupid stuff that had no bearing on us, were his responses.
Within an hour, we had our first fight.
Over something stupid.
And I was soooooo pissed off, that I spiralled.
This never changes, nothing is going to change, I'm so sick of life, I ranted.
As we drove back from my parents house to his, we had a bit of a tense situation in the car and then…
Silence.
For the next couple of hours.
I seethed. I fumed.
Not against him, as he was thinking.
But against myself. Frustrated to be back again in the same place where my thoughts run me around like a hamster on a wheel.
I can't tell you how many times a day this happens to me.
I mean, how many times I do this to myself.
As a certified coach, a long time student of self development + leadership, with all the tools I have, I should know / do better, right!?
Wrong.
Knowledge isn't power, ACTION is.
And no matter how much I know, you know, we will trip.
That's okay. What matters is what you do next.
Even if you seethe for a while like I did, do you then have the courage to admit you over-reacted, the love to make the first move, the desire for happiness over being right? 
When your spouse, child, friend, boss, anyone upsets you, you have a choice.
To let your thoughts about what happened control your mood, or consciously change it.
I chose to wallow for a couple of hours because … I swear, sometimes I don't even know why.
Maybe because anger feels powerful in a twisted way and I'm not fully owning my power in a healthy way?
When words don't work and you've both shut down, you gotta hit the road.
Try something else.
We decided to go for a walk.
Walks are good. They calm you down. Help you think.
Nature mama knew what she was doing when she created her healing space..
I saw how I wait for a Monday, the 1st of the month, the New Moon, the Full Moon, NYE to reset myself, my intentions, desires, goals, etc.
And how fast like today, I go right back to where I started the moment I am triggered.
New Years or any day I place significance on doesn't have any power to change diddly squat.
Only I do. You do.
At annnnnytime, annnnywhere.
If you so CHOOSE.
I slipped my hand in his and we walked in silence for a bit longer.
The words flowed again, but the talking had been done. Now there was just listening.
And while I said I wasn't doing any resolutions or sharing anything publicly, I am happily contradicting myself.
This year, what I want most, is to MASSIVELY up-level myself + my business. I'll do this by 

daring greatly

, 

creating + shipping daily.

The areas I feel lacking in the most right now. 

To this end, what comes up intuitively for me is to take care of my physical, mental, emotional, and spiritual health in the simplest of ways.

Simple actions, consistently done.

Physical: Walk 30 min daily.
Mental: Write 30 min daily.
Spiritual: Chant or meditate 15 min daily.
Emotional: Say no when I mean no. 

And no beating myself up if I miss a day here or there. This is a lifestyle thing, not a to-do list!

You see, I'm a recovering perfectionist-complicatrix.

There's a temptation to throw out numbers, add things like no sugar, give up wheat, eat better, write 20 ideas daily, write 500 words, write 1000 words, publish daily, bring back guest posts, etc.

I might or might not do all that, but having a long list of to-dos = I'll drown in overwhelm and do zip.

So against my over ambitious nature, simple is as simple does.

If that's all I accomplish all year, to simplify my thoughts and life, well then, colour me rad!

I think that's my recovery started right now.
What's the one thing YOU want to

feel/accomplish

most this year? Tell me below, I'd love to know.
Oh and… HAPPY NEW YEAR! I wish 2015 brings you delightful surprises + megatf*ktons of happiness + love, hugs, adventure + all the money you need for all the experiences you want to have this year. Live life to the max!
~ xoxo, Tia.
ps: Like this post? Like, tweet, pin, share, thanks!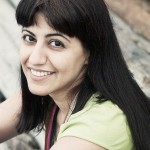 Hi! I'm Tia. Multi-passionate Sparklepants, Life Lover, Curator of Awesome. I run this website featuring kickass inspiration to help you sparkle through life, no matter what! Click here to ignite your Inner Sparkle — that shimmery part of your spirit that says YES to courage + connection, and NO WAY to 'shoulds' + restrictions.
Facebook comments:
comments